20 Pampering Beauty Gifts For The People In Your Life Who Could Use Some Chill Time
Bathing Culture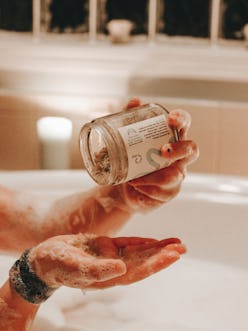 Take one look at beauty websites these days, and you'll notice a lot of one thing: bath products. With relaxing bath salts and bubble baths taking over retailers like Sephora, and brands like Bathing Culture and Nécessaire flooding Instagram, it seems like practically every beauty line has one goal in mind these days: to improve your wind-down routine (or at least just convince you to create one). Clearly, all signs are pointing to one thing in 2020: Humans are in need of some relaxation, and stat. And while sadly, you probably can't give your friend the gift of time, you can give them a pampering beauty gift to help them chill out at least a little bit.
And it won't be hard to find something for them, either; the selection is so good this year, the only difficulty will be not buying all these relaxation tools for yourself, too. If you're looking for something small, there are plenty of affordable stocking stuffers like Plant Apothecary's Calm Down soap, which is $12 and "scented with organic essential oils chosen according to the principles of classical aromatherapy" to help calm your mind, according to the brand.
Or, you could go all out and gift them this Aureole Cold Air Diffuser for $200; not only will it fill a home with soothing scents, but its marble body makes it look like an expensive piece of art. Whatever you choose, it's sure to make your gift recipient's year a little bit less stressful — and honestly, that's something you can't really put a price on.
Ahead, 20 pampering beauty gifts to give for those in your life who could use some chill time.