These 2-Piece Outfit Combos Make Summer Dressing Ridiculously Easy
@filis_pina On Instagram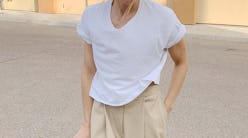 It's a rare occasion that you actually have the time to sit in front of a mirror and thoughtfully piece together an outfit that feels both timeless and on-trend. The reality is that many women lean toward the side of efficiency when it comes to their wardrobes. Think: versatile separates, complementary color palettes, and one-and-done pieces like breezy dresses. But, while you'll always fall back on the classics — a tailored blazer, button-down shirt, and perfectly-fitted blue jeans — sometimes you need a little inspiration to mix things up. Start with a seasonal serving of new and easy two-piece outfit combinations since summer is right around the corner (where does time fly, seriously?). If you're wondering how to pivot your closet in a fresh and effortless direction, thinking in couples is the simple solution.
A two-piece outfit is self-explanatory, but its benefits are worth calling out. When you're able to assemble a polished, stylish look with nothing more than two items from your wardrobe, it's not only deeply satisfying, it also gets you out the door and where you need to go quicker. And because temperatures are only going up from here, the less clothing the better. Ahead, see a slew of two-piece formulas from some of Instagram's best dressers and if any of the looks inspire you, shop the picks to get going on your own two-piece ensemble for summer.
Printed Dress + Jeans
Toss a sheer or bold-patterned mini on top of a pair of blue jeans for a summery take on the dress-over-pants trend.
White Tee + Khakis
For a sleek, classic combination that'll always feel polished, pair a white tee and khakis together.
Statement Shirt + Pleated Skirt
Wear an untucked statement shirt over a pleated skirt to the office once temperatures rise. It feels elevated but is also delightfully loose and breathable.
White Blouse + Wide-Leg Slacks
Test drive a white-on-white ensemble for summer with a front-closure top and wide-leg slacks in a light linen or twill.
Graphic Tee + Patterned Skirt
Swap out your blue jeans and team your graphic tee with a splashy skirt in its place. A tee might seem casual on its own, but the skirt takes it up a notch.
Blazer + Slip Dress
If a solo slip dress feels too dressy for the occasion at hand, simply layer on a lightweight blazer to tie it all together.
Floral Top + Printed Shorts
Have fun with your print mixing this season and style a patterned short-sleeve button down and eye-catching tap shorts together.
Pajama Top + Bottoms
Pajama dressing is alive and well, especially when worn with cool sneakers or strappy sandals. Consider this the ideal weekend brunch look.
Puff-Sleeve Blouse + Slip Skirt
Need a new date night ensemble? Consider a puff-sleeve blouse worn with a slip skirt for instant romance.
Lightweight Sweater + Printed Dress
If you live somewhere it gets cool in the evenings, knot a lightweight sweater around your neck during the day with your favorite printed dress. It's a slightly preppy (but oh-so-cool) outfit trick that will also come in handy.
Ruffled Top + Denim Cutoffs
Say hello to your new vacation uniform — a cropped top with ruffle details and a casual pair of shorts with a mid-thigh hemline. All that's missing is sunscreen.
Denim Jacket + Little White Dress
For a look that translates from weekend brunches to warm weather holidays, reach for a classic denim jacket and your favorite little white dress in a breathable cotton or silk.