How Grece Ghanem Went From Personal Trainer To Certified Fashion Influencer — In Her 50s
Courtesy of Cheyenne El-Khoury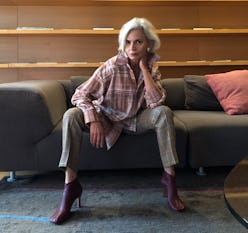 With her ability to seamlessly mix high-end streetwear with practical, everyday pieces, it's no wonder Grece Ghanem has amassed almost 70,000 followers on Instagram — her approach to style feels edgy, fun, and timeless all at once. An influencer in her 50s, Montreal-based Ghanem started her career as a microbiologist before becoming a personal trainer. But just because she doesn't come from a more traditional fashion background doesn't mean major fashion and beauty brands aren't taking notice; Ghanem collaborated with Sephora Canada on its #withSEPHORA campaign over the summer, and was also recently tapped for a partnership with Club Monaco.
Ghanem's favorite place to look for inspiration is her own closet (she's a big fan of wearing things more than once), and there are certain pieces her Instagram fans have come to love — a bright pink Balenciaga dress comes to mind. Her favorite item to wear, though? Self-confidence.
What piece instantly makes you feel more confident and why?
I believe that style is personality-related, and you cannot be stylish if you lack self-confidence. So for me, it is not the piece that instantly makes me feel confident, it is my personality.
How do you define your personal style?
My style is simple, nonchalant, mostly harmonious with my mood. It is a form of art where I can get away with expressing myself in my truest form. I live in denim. Denim is a practical basic piece that is easy to style, mix, and elevate. My favorite piece is a pair of Levi's that I've had since my twenties.
What style item do you covet the most? A category, a designer, a specific item? Or what item do you always gravitate toward? What item do you own multiple versions of?
The style I covet the most is basic with a twist. Old Celine is the fashion house that caught my attention every season and has had my heart since I was a young woman. I believe that the old Celine designs have this creative energy and timeless modernity. It never failed to impress me.
If money were no object, what is one outrageous luxury item you would invest in and why?
If money were no object, the outrageous luxury item I would invest in is traveling the world. Traveling is my passion — it feeds my mind and soul as it is rich in culture and art.
Being in my 50s does not mean I have an old-fashioned and classic aesthetic. I strongly believe that you can stay on trend and sport cool pieces regardless of your age.
Can you recall an outfit you have worn that was iconic for you?
The outfit that I had worn and that is iconic for me is my pink Balenciaga dress. I wore it both during Paris and New York fashion week. It was shot by the accomplished photographer Ari Seth Cohen (@advancedstyle) and gave me a lot of visibility.
How do you want the conversation around style and age to change? In what ways have you embraced or reaped more from fashion and style as you've matured?
Currently, the fashion and blogger scene seems to be dominated by a younger crowd. But in my time on Instagram, I have encountered inspiring people of all ages and professional backgrounds showing off their unique and fun looks. Being in my 50s does not mean I have an old-fashioned and classic aesthetic. I strongly believe that you can stay on trend and sport cool pieces regardless of your age. Staying young is a state of mind, being curious, maintaining sense of humor, and staying connected with your childhood. Therefore, I want to use Instagram as a platform to express my personal style and to inspire women no matter their age, they too can do the same.
What are some of your favorite styling tricks?
For my look, I usually lay the foundation by starting off with one piece, whether it is an awesome shoe or a great top. Then, I make sure everything is quiet and subtle around it. My center piece must speak for itself.
I am inspired by art, photography, and people in the streets.
You're open about wearing the same pieces more than once. Why is it important to you?
It is important to invest in timeless pieces that can mix with what I already have collected over the years in my wardrobe to push the bounds of my creativity and trendiness, and for the sake of sustainability as well.
Whose style inspires you currently? Where do you draw style inspiration from?
I am inspired by art, photography, and people in the streets. My curiosity for fashion started at home with my grandmother. I remember dressing up in her clothes and trying on her accessories and jewelry. She remains an inspiration for me today. I hope I will also pass on my excitement and passion for fashion to my daughter and her children in the future.
This interview has been edited and condensed for length and clarity.