Proof That Ponytails Aren't *Always* Boring, Straight From Cushnie & Linder
IMAXtree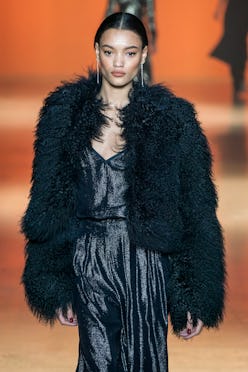 Ponytails have had a serious resurgence, thanks in large part to scrunchies, ribbons, and Ariana Grande. But there's always been something a little lackluster about the style. Sure, you can toss a hair accessory like a bow or a fun clip in it and call it new. But for the most part, ponies tend to be our go-to when we haven't washed our hair in days — or when we're on our way to yoga. Backstage at New York Fashion Week, however, we stumbled across a duo of easy ponytail hairstyle ideas that just might make you excited to try this look all over again.
Backstage at Linder's Fall/Winter 2019 show in Manhattan on Feb 8., hairstylist Peter Gray had a vision of polished diversity for the hair look. "I'm very anti-trend, because I think women of today are smart and can pull inspiration from different sources to create their own vision," he says. So using products from Redken, Gray sought to enhance the models' natural textures, giving them a polished, yet amplified version of their own hair.
On some of the models, Gray raked the hair on one side back using Redken's Full Frame 07 All-Over Volumizing Mousse and tucked it behind the ear. But instead of securing the section with a bobby pin, as you'd expect him to, Gray pulled out a shockingly obvious trick.
He secured the hair by tying it into a ponytail with some strands on the bottom section of hair, and then hid the ponytail holder by draping the top section of hair over it. "This way, it's much more secure than just using a bobby pin," he explains. It was a true "why didn't I think of that" moment. Sure, this style is technically an optical illusion ponytail, but it is a ponytail nonetheless.
But for those more interested in a traditional ponytail, the hairstyle over at Cushnie's Fall/Winter 2019 show in Manhattan on Feb 8. more than delivered. The look was a sleek, straight, slick ponytail that hung directly down the models' backs. (It was a very Meghan Markle move, actually.) But instead of securing the style with a regular old ponytail holder, hairstylist Justine Marjan used a piece of thread to hold the hair together.
Using a shade similar to the models' hair, she looped the string around the 'do a few times, and then let the loose ends mingle with the strands of the ponytails. The result was a polished, yet interesting, pony that didn't feel fussy. "Hair adornment is having a big moment," Marjan tells TZR backstage. "[It's about] simple ways to elevate a ponytail." The thread is the minimalist's answer to the pony ribbon or scarf trends. Even better — the trick gave us a backup option for those mornings when we just can't find a hair tie. And that is invaluable.
So don't discount the ponytail, or keep it solidly in the gym category. With these tricks up your sleeve, you'll find that there's new life in this classic, standby style.