This Is Exactly How To Get Flawless Skin Like Gwyneth Paltrow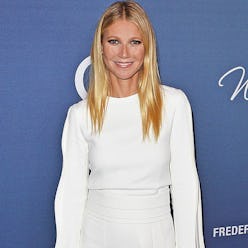 Gwyneth Paltrow may be responsible for introducing us to some seriously interesting things: crystal eggs to improve Kegels, walking barefoot for better health and heaping spoonfuls of Moon Juice dust for everything else. But for all the wellness trends she's picked up on that may or may not actually work, one thing we can't deny is that she looks great. Just a quick photo search proves her skin looks like she bathes in moonlight and close attention is paid from head to toe. Here's everything the Goop queen uses to keep herself looking ageless, with nary an imperfection in sight.
Start With A Good Cleanse
When it comes to washing up, Gwyn reaches for her own Goop by Juice Beauty Luminous Melting Balm, gently working it over her skin with the help of a warmed washcloth to exfoliate without irritating. She calls it a "a miracle for removing makeup."
Take Care Of Under-Eye Baggage
Whether 30,000 feet up or at home in Los Angeles, Gwyneth is a fan of Juice Beauty Instant Eye Lift Algae Mask to help her de-puff and prep for makeup application. The gel patches revive and brighten the under-eye area—to help you fake hours of beauty sleep.
Clear Clogged Skin With A Clarifying Mask
Just because she's a natural-beauty devotee doesn't mean the products she chooses lack efficacy, especially when it comes to purging pores. She reaches for May Lindstrom's Problem Solver mask, which you can feel working thanks to the self-heating, sebum-clearing volcanic ash particles.
Layer On A Serum
If there's ever been a skincare product beloved by editors, celebrities, aestheticians and dermatologists alike, it's Vintner's Daughter Active Botanical Serum, which of course Gwyneth works into her routine. Fans swear that, along with a 30-second facial massage upon application, this oil-based serum tightens pores and wards off damage from free radicals.
Hydrate With A Face Oil
Paltrow doesn't merely use her Goop by Juice Beauty Enriching Face Oil on that pretty mug of hers, rather, she also uses the multi-tasking wonder to temporarily mend dry, split ends and hydrate dry patches on her body, too.
Use A Clean SPF
Gwyneth and her Goop beauty team swear by the antiaging powers of SPF (as do we). Of course, her top pick checks all the boxes: Drunk Elephant Umbra Sheer Physical Defense Broad Spectrum Daily Sunscreen protects without any shady chemicals—and leaves behind none of the white tint most mineral SPFs tend to.
Grab The Ultimate On-the-Go Wipes
Rather than buying a travel pack—which the trail mix in your bag will no doubt invade—try the individual packets GP uses, Ursa Major Essential Face Wipes. While never a full-on substitute for washing your face at night, these guys act as a stopgap when the situation reads SOS.
Scrub Off Post-Workout Grime
When it comes to body care, Gwyneth always exfoliates after exercise, either with a dry brush or with a handful of The Organic Pharmacy Cleopatra's Body Scrub. Coarse sea salt and fine sugar blend with dried rose petals, just as the Egyptian queen would have had it.
Hydrate With A Luxe Body Oil
Although GP sometimes reaches for organic coconut oil straight from the kitchen to moisturize after a shower or evening bath, her indulgence comes in the form of Tammy Fender Bulgarian Lavender Body Oil, a practical cure-all with a sleepy-time scent that's not too overpowering.