These Cult-Favorite Perfumes At Sephora Have Near-Perfect Reviews
Viktor & Rolf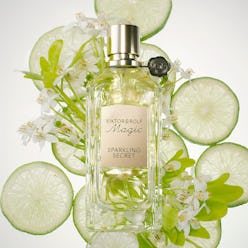 Now's the time to set resolutions and plan for a fresh start, and your fragrance collection is no exception. With vast options of scents and dupes for the most popular fragrances, finding new options for your stock can be a chore in itself — unless you're going by the perfumes that have 5-star ratings at Sephora. Then you're thinking ahead.
Luckily, there are no rules or stipulations when looking for an individual scent. "Let your nose [guide] you by going and sampling the perfume offerings at your local stores," says Mark Behnke, fragrance expert and Editor-in-Chief at the blog Colognoisseur. "Just as your favorite color speaks to who you are, so will the right perfume, and only you can figure that out."
But don't think that you have to leave the comfort of your own home to hit the right note. "You do have to have an idea of a perfume or two that you like," Behnke continues. "Then you can use information from that perfume to help you find another one you might like online. [First, you can] choose another perfume by the same brand, because brands tend to develop a specific aesthetic. Second, you can go by the key note of the perfume that you like... if your favorite perfume has rose as its most dominant note, then you can search for other rose perfumes."
Either way, the "anatomy" of a fragrance is always of utmost importance, Behnke says. "A perfume is designed most often with a 'pyramid' in mind. The idea is it will have three different stages of development; top, heart, and base," he says. "The top of the pyramid will include ingredients which will evaporate the quickest — citrus elements are the best examples of this." But often, it's not the top of the pyramid that you smell first. "The heart of the pyramid is the effect a perfumer usually wants to make the biggest impact. It is why floral perfumes are so popular because they last for a long time while allowing for variety," Behnke continues. "The base of the pyramid is where the woods and musks tend to be. They are there to provide depth throughout the life of the perfume on your skin."
If you're not exactly sure if it's time to replace your perfumes, be sure to know how to store them — this will help guide you when looking to see if it's time to discard your current favorites or not. "Fragrances should be stored in cool, dark places and not exposed to direct sunlight, or very extreme temperatures, despite the myth that people should keep their fragrances in the fridge or near the window sill, close to air conditioners or heaters" Sue Sue Phillips, CEO of Scenterprises and founder of The Scentarium, tells The Zoe Report. "If properly cared for, fragrances can last for two to five years."
Ahead, 15 fragrances for all tastes — from the spiciest vanillas, earthy tones, airy florals, fresh citrus, and seductive musks, even a leather scent.
Florals
"Typically feminine, this is the largest fragrance family," Phillips explains. "Ingredients such as rose, lilac, gardenia, and jasmine are typically sweet, ranging from light, fresh florals to heavier notes."
Spicy
"This is the Oriental family consisting of spicy, vanilla, and amber. Very sensual, sexy and sophisticated," Phillips describes.
Musky
"Musky derives from the original perfume ingredient from glands taken from the musk deer, and they typically have added notes called 'laundry musks.' These tend to have a fresh smell," Behnke says.
Woodsy
"These are the natural ingredients consisting of smooth sandalwood, agar wood— resinous notes, warm, and smooth," Phillips says.
Leather
Obviously, leather scents are reminiscent of your favorite bomber. But most have added notes of thyme or saffron to make the smell less aggressive.
Fresh
"These can include citrus, lemon, lime, grapefruit, and can also mimic fresh air or sea spray," Behnke says.