A Few Ways You Can Support Women-Led Brands All Year Round
Mother of Pearl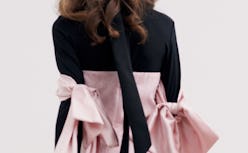 Now that you've gotten through Black Friday, Small Business Saturday, Cyber Monday, and Giving Tuesday, it's time for Shop Women Wednesday — which is a global initiative led by The Helm. As you probably guessed from the name, this day is all about supporting companies founded and led by women. And thankfully, there are plenty of women-led brands to choose from as you shop for the leading ladies (or anyone else) in your life this season.
When it comes to fashion, some women just get it. And what better way to support female voices and creativity than by shopping from their brands? The Helm is fully stocked with chic names like Mansur Gavriel, Nili Lotan, Mari Giudicelli and others to choose from. Of course, you can also shop from handful of smaller women-led brands, too.
With the increasing number of female-founded and women-led brands joining the market each day, determining exactly which brands to add to your closet can be tricky. Luckily, there's a wide variety of pieces coming from each label, which means there's bound to be something for everyone.
If you need easy everyday essentials to throw on at a moment's notice, look to Dame — which was founded by two industry veterans and sisters-in-law. Another sister-led brand is BAKTI. With its undeniably cool and modern designs, the brand's fine jewelry pieces will add a touch of glimmer to any ensemble.
Just in case you want to fill in some other areas of your closet, Teressa Foglia has become known for her one-of-a-kind, celebrity-approved hats. If you opt for one of her custom-made hats, complement it with a pair of sustainably made shoes from Taylor + Thomas.
Of course, this is also the season to don your most festive garb, whether it's for the world to see or just for you. Parade has only just launched, but is already becoming a favorite among fashion girls for its playful, sustainable, and affordable underwear. And for those upcoming holiday parties, Rezek is chock-full of bright, '70s-inspired pieces that were meant for special occasions.
Now, scroll down for more women-led brands to check out during Shop Women's Wednesday.
Mansur Gavriel
Nili Lotan
Mari Giudicelli
Dame
Bakti Jewelry
Rezek Studio
Parade
Taylor + Thomas
Teressa Foglia
With Jéan
Argent
Evewear
Mother of Pearl