13 Dresses To Throw On For Halloween If You Hate Wearing Costumes
SHUTTERSTOCK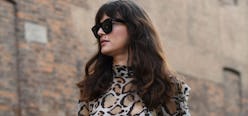 Halloween is quickly approaching, which means it's time to get serious about your holiday planning. However, if you don't love the idea of an actual costume or aren't keen on spending money on the latest pop culture ensemble, then Oct. 31 may not hold the same appeal for you as it does for others. While you could plan on spending the night in watching your favorite spooky movies, your desire to not get all decked out doesn't mean you have to miss out on all the activities. The key is to shop Halloween-inspired dresses that can easily transition from a stylish fall frock to a party-appropriate look, and then back again when the fun's over.
This season, there are plenty of pieces that'll give off Halloween vibes — no costume needed. With fall clothing trends ranging from animal prints and leather to vintage silhouettes, there's no shortage of styles that'll look perfect for your Halloween bash.
Slip into a zebra print dress or a leopard style (you won't have trouble finding one) to give off jungle vibes with minimal effort required. You could throw on an accessory to turn the look more into a costume, but with such wild prints, it'll make just as much of a statement without.
Searching for something that's less of a "look"? Channel your witchy side in an IRO midi dress that will provide endless styling opportunities both pre- and post-party. Pair it with you favorite cowboy boots for an easy Halloween look that you'll end up finding yourself wearing from work-to-weekend. And if you really want to keep things simple, a chic orange dress from Zara will provide Halloween hues without so much as hinting at a costume.
Forget about spending hours looking for a look you're going to wear once — shop the pieces below for 13 Halloween-inspired dresses any non-costume people will love.