This New Leopard Print Zara Shirt Is The Best Way To Try The Trend For Less Than $40
Zara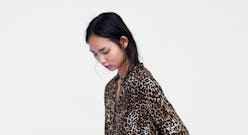 You probably already know leopard print is trending — it's quite literally everywhere you look. Even if you're aware that it's the big print to know, though, you may not have attempted to try the look just yet. It's understandable — it's not exactly subtle, which can make it difficult to style. And because of that, you probably don't want to spend a fortune on a piece you're not even sure how to wear. Thankfully, Zara's here (as usual) with a slew of leopard print dresses, skirts, and more pieces in its new arrivals under $50, so you don't have to spend much if you're still hesitant to test out the trend.
For those who aren't sure how to wear this statement pattern, a simple blouse is the easiest way to start. Zara's Animal Print Oversized Blouse, which is only $39.90, can work both as a mini dress or a shirt over jeans or trousers and will pair well with any color. A midi skirt is another good option for easing into the trend, and an option like Zara's Animal Print Pleated Skirt for $49.90 lends itself well to a blazer for the office or an oversized sweater on the weekend.
You don't have to go under-the-radar with this trend, though; Zara naturally dropped plenty of new statement pieces for those looking to go bold without the big price tag. The Animal Print Dress for $49.90 is just one of those items among many others that ring in under $50.
If the many Instagrams, runway shows, and stores touting the leopard print trend haven't yet convinced you to try wearing it for fall yet, keep scrolling for 11 ways you can test it out without breaking the bank. And should you decide you do, in fact, love it, there are plenty more affordable pieces waiting in Zara's new arrivals.