3 Trend-Based Halloween Costumes To Help Justify Your Wishlist Purchase
Roy Rochlin/Getty Images Entertainment/Getty Images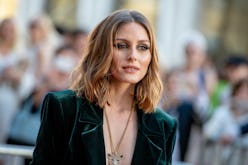 For many, spending exorbitant amounts of money to concoct a creative and unique Halloween costume is less than appealing. While looking the part is always the goal, wasting money on a polyester astronaut costume you'll never wear again is not. With so many great trends this season, it seems like a golden opportunity to buy what you've already been eyeing, with a little extra justification under the guise of Halloween strategy.
Allow me to justify this logic with the help of stylist and designer Rachel Zoe, who has made a career out of paying homage to style icons of the past. For Halloween, she likes to combine a trend-forward piece with items she has mined from her own (albeit impressive) closet. "I've been Twiggy, Brigitte Bardot, a Studio 54 party girl, the list goes on," says Zoe who recommends highlighting one or two key identifiable components to avoid going overboard. Channel her approach by selecting an item from your Fall wishlist, then browsing pictures of style icons to inspire the remainder of the ensemble. With a little help from hair and makeup, the result exudes effort without looking like you tried too hard. Let her illustrate with a few current trend-based outfits you can get behind for October 31 and beyond.
Trend: Avant Garde Jewelry
From the mismatched earrings at Jonathan Simkhai and Oscar de la Renta the sculptural necklaces at Alexander McQueen and Balenciaga, dainty jewelry is taking a back seat this season. Indulge in a statement piece you can style with voluminous lengths — yes, you can also use Halloween to justify a Philo-era Celine purchase here — and coiled side buns for a Princess Leia vibe.
Trend: Animal Print
Animal print can skew tacky, fast. Everything from the fabric to the quality of the print pattern play a role, which means you're likely going to need to spend a little to get something worthwhile. If you've been eyeing a pair of animal print boots or a leopard print jacket, now's the time to take the plunge using Halloween as an excuse. Channel a '60s icon like Edie Sedgwick and team your purchase with a black minidress and bold lashes.
Trend: Gleaming Metallics
Some iteration of metallic surfaces most seasons, but Fall 2018 saw a veritable smorgasbord of options, from chainmail to oversized pailettes and everything in between. (Lame and sequin options also accomplish a nod to the '80s revival seen on countless other runways.) Similar to animal print, you need to purchase wisely so as to convey 'hot' but not 'flammable'. Whether you invest in a dress, top or trousers, double down for Halloween by styling it with other metallics and a healthy dose of bronzer for a tribute to the disco era.