The Chic Statement Jacket That Makes Transitional Dressing A Breeze
Understated Leather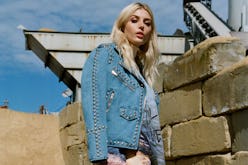 If you've ever watched Miss Congeniality, chances are you know the line on Miss Rhode Island's perfect date — April 25. Nearing the end of the month, the weather isn't too hot or cold, and the only thing you need is a light jacket. Perhaps the character was onto something, because there are tons of statement jackets for spring that will give your transitional-weather ensembles an extra boost for the rest of the season.
At this point, you've probably started to experience slivers of sunshine and warmer temperatures. However — because spring weather is inevitably unpredictable — for every forecast that calls for blue skies, there seems to be two more anticipated overcasts. And while cloudy spring days barely compare to the entirety of winter, to forgo an outer layer completely might seem a little ahead of the curve.
Though you could always opt for a classic trench coat or a lightweight blue jean jacket, a chic statement piece will take your spring ensembles to the next level. Whether it's an eye-catching color, a bold print, or even standout embellishments such as fringe or studs, these jackets will give you an added layer of warmth in the most stylish way.
Scroll down for four statement jacket trends that provide the perfect way to make a statement and simultaneously help you survive the worst of this season's unpredictable weather.
Fringe
If you're looking for a new way to take on the western trend without feeling like you're heading to a rodeo, opt for a chic fringe jacket like the $368 Braided Fringe Suede Jacket from BCBGeneration. You'll be embracing one of the biggest trends of the year, and depending on your mood, you can wear it with other layers or just on its own.
Color
For those on the more minimalist side, incorporating a bright statement jacket into your wardrobe is the perfect way to wear color without gravitating too far away from your style. This STAUD Maura Coat, $275, comes in one of the most popular colors of the year and can be easily thrown over any look you wear.
Bold Prints
On the other hand, if you want to try a funky print for spring, opt for a vibrant tie-dye jacket such as the $458 Gene Denim Jacket from Veda. If you prefer subtler patterns, you can't go wrong with Nanushka's Fluid Trench with Tie Cuffs, $959, which features a neutral-hued paisley print.
Studs
Just in case you want another show-stopping embellishment, studs will give your jacket the perfect amount of edge for spring. This Understated Leather Denim Western Dome Studded Jacket, $375, will look great styled with tailor trousers and a basic tee.