Want To Dress Up Your Holiday Look? Try These 12 Accessories Trends
Julien Boudet/BFA/Shutterstock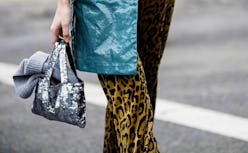 The holidays are here and your calendar will soon be filled to the brim with soirées and events from now through New Year's Eve. In short, you're about to have a whole slew of special occasions you have to dress for. And while a pre-edited party wardrobe can help you navigate your holiday obligations, even the most skillful planners among us can't always escape the pressures of limited time and money that characterize this time of year. That's where accessories come into play. Whether you are recycling last season's look, dressing up a simple ensemble, or elevating an inexpensive outfit, utilizing the top accessories trends is key to transforming any holiday ensemble into its most fashionable, festive form. And what's even better, you can find seriously chic options on practically any budget.
Need to polish and refine a last-minute look? A pair of bow-adorned pumps or crystal-encrusted mules can make the whole outfit. Stuck wearing something a little too casual with no time to change? Throw on some glitzy statement earrings for instant glamour. Is your tried-and-true LBD feeling tired and lackluster? Add a sparkling hair ornament and trendy mini bag to freshen it up. Below, see which accessories trends are hot this season and shop the picks that are sure to be the heroes and heavy-lifters of your holiday party wardrobe.
Bejeweled Heels
Nothing screams holiday-ready quite like sparkle. Throw on a pair of crystal-encrusted heels to take your look to the next level of glam — whether you're wearing a basic black cocktail dress or a sweater and dark denim.
Mini Beaded Bag
The mini bag has been the evening bag of choice for a few seasons now, and this year the popular iteration comes in an adorably tiny beaded form. Small pearls and shimmer beads dot the outside of these cute little totes, which are just big enough to hold your essentials for the night.
Embellished Headpiece
A sparkling headpiece imbues your look with a bit of regal opulence. Try a starry wire headband for a more ethereal vibe, or go full queen in a golden rhinestone tiara.
Feather Accents
From marabou-trimmed bags to frothy mules, feather details are the latest trend to bring a boudoir-inspired sensuality and whimsy to your holiday ensemble.
Mismatched Earrings
One of the biggest jewelry trends to sweep the Fall/Winter 2018 runways was the prevalence of asymmetrical earrings. So set aside those diamond or pearl studs, even your favorite gold hoops, and opt instead for modern, mismatched bijoux. You can buy a set, or get creative and make up your own pairing from two different earrings you already own.
Bow Pumps
Give the gift of yourself this holidays. You'll look like a lush, luxe present as you stroll up to the party in your bow-adorned heels. Front, back, top — no matter where the ribbons are placed, choose a style that has a big, oversized bow so the look is more over-the-top and festive as opposed to dainty and prim.
Fancy Socks
The socks-with-heels trend has always been a polarizing one, but there's something undeniably edgy and cool when it's pulled off properly. If you're looking to test-drive the trend, start by looking for a pair that's sheer, then choose which additional attribute you prefer, be it rhinestones, ankle ties, sparkles, or embellishments.
Fur Stole
One of the biggest struggles of the holiday party scene is that you're usually wearing some flimsy cocktail dress in the dead of winter, and it's hard to have fun when you're cold. A faux fur stole or wrap will keep you feeling cozy and looking every bit luxurious as you party-hop the night away.
Cinch Bag
Nothing will ruin your night as quick as misplacing your bag — and that's why you should ditch the handheld clutch in favor of something less easy to lose. A drawstring pouch with a shoulder strap or wristlet is elegant enough for evening, but more convenient to keep track of and carry as you mix and mingle.
Fringe Earrings
For the most instant impact, throw on a pair of shoulder-sweeping earrings. Turn the drama dial up to 10 — the bigger and longer and sparklier, the better.
Waist Belt
If you're not normally a belt person, you might be surprised by the enhancing effect they can have on an otherwise un-intriguing or ill-fitting outfit. A thick belt that hits at the waist adds a little something extra to an LBD or structured suit.
Evening Gloves
For the more daring dressers out there, this accessory trend is for you. Gloves were all over the Fall/Winter 2018 collections as designers sent models down the runway with their hands sheathed in satin, leather, and velvet. The look has obvious evening appeal, especially when you go with an opera-length style in fancy fabrications like tulle netting and luxe velvet.