The Best Black Friday Sales To Get Excited About For Deals On Home Décor
Lulu & Georgia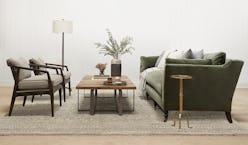 Because it's easy to get completely overwhelmed by all the discount action that Black Friday brings, it's imperative to go into the day with a plan — what you're looking for, where you'll shop, and when the deals become available. Luckily, you're sorted when it comes to the home category, because this year's Black Friday home décor deals at some of the best home stores have everything you'll need to revamp your spaces this season for less. And you'll likely find some great gifts for loved ones, too — an all-around holiday win.
As the single largest shopping day of the year hurtles closer each day, it seems like everyone becomes increasingly frenzied by the overflow of sale opportunities that are popping up at just about every retailer. It can be enough to make even the most thoughtful, methodical shopper feel a little frazzled — how do you ensure you're getting the best stuff at the best prices? Thankfully, some of the style set's go-to brands for home design have the all-important info regarding the season's upcoming sale events, so you can get your shopping list in order ahead of time.
The good news? There's no shortage of sales to shop and goodies up for grabs to outfit every single room in your abode. Large home goods retailers like IKEA and Lulu & Georgia are offering site-wide discounts so you can save on pieces big and small — great options if you're in need of high-price items like furniture, or looking to pick up lots of décor like rugs, lighting, and accent pieces.
At IKEA, all shoppers will be able to take $25 off any purchase of $100 or more with a coupon, beginning Nov. 22 through Nov. 26. But there are even more savings to be had for IKEA Family members; case in point, if you're part of the store's membership program you can save up to 20 percent on select rugs over $100 from Nov. 21 through Dec. 2 — consider the store's SÖNDERÖD rug, down from $149 to $199.20, in a deep red shade for a bold dose of color in any room.
Fans of Lulu & Georgia's contemporary chic designs can take 25 percent of everything the online retailer has to offer from Nov. 19 through Nov. 25 with the promo code BESTEVER. The savings continue on Cyber Monday, when the site will offer 20 percent off purchases of $400 and up, 25 percent off purchases $800 and more, and 30 percent off purchases $1,200 or larger. Shoppers will just need to enter in the proper code at checkout: CYBER20, CYBER25, or CYBER30, depending on the size of their purchase.
Shoppers can also save on Snowe's simple home essentials on Nov. 21 through Nov. 26, by slashing 20 percent off purchases of $75 or more across site. Since the store's thoughtful, luxe pieces will look great in just about anyone's home, it's an ideal source for gifting as well as stocking up on your own home needs. Grab a scented diffuser set for your candle-loving friend, and a fresh set of table linens for yourself.
That's just the tip of the iceberg for this year's Black Friday and Cyber Monday's home décor sales; special shopping deals can be found at several other fan favorite home goods stores, from small business brands like American Heirloom and Minna to bigger retailers like simplehuman and Crane & Canopy. Browse below for a selection of upcoming sale items (and the details on all the deals) from some of the most stylish décor retailers below.