How Celebrity Makeup Artists Shop Black Friday
Rosdiana Ciaravolo/Getty Images Entertainment/Getty Images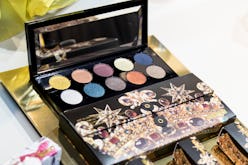 Want in on a little-known beauty secret? Celebrity makeup artists love to shop. Yes, they're often gifted by some of the best brands in the market — and those products are typically additions to their already-sprawling cosmetic cases. But that doesn't stop them from cashing in on a good bargain, like some of the Black Friday 2019 beauty deals hitting the 'net this week.
As any savvy shopper knows, the Friday after Thanksgiving isn't just a day to heat up leftovers — it's a time to stock up on goods from brands that might normally stay on your "Saved" list. Pat McGrath Labs, for example, is offering 30 percent off purchases of $150 and up — meaning that you can double-down on a couple of Mothership palettes (that is, if you can get your hands on them before they sell out... ). And because you can't have great makeup without a properly-prepped canvas, skincare brands like Tatcha also have deals-a-plenty — while drugstore brand Bioderma is shaving off an additional 20 percent atop already-affordable prices.
Because you deserve to actually rest on your day off, we asked some of the industry's top artists to share their Black Friday carts with us. See how they're splurging (and saving), ahead.
20 percent off everything; Available 11/29 to 12/1 with promo code THANKFUL
"I love this brush it blends my makeup so seamlessly. I have three of them already, and I always want another. This brush is super clutch because you can use it for foundation, powder, and concealer.
"I usually apply the product on the skin first and then use this to buff everything out. I'm able to build coverage with this brush because while it's dense its fluffy enough to give an airbrushed finish." — Jaleesa Jaikaran, editorial makeup artist
Black Friday Beauty Deal: Laura Mercier
25 percent off at LauraMercier.com; Available 11/25 to 12/2
"This one is essential for me. It's a staple in both my makeup kit and my personal stash. It gives such great coverage but still looks like skin.
"When using it on myself, I usually warm up the product on my fingers since it seems dry when it's straight out the packaging. I like to tap this on in my problem areas and blend the edges with a brush or clean fingers." — Jaikaran
25 percent off purchases under $150, 30 percent off purchases over $150; Available now
"These quads are the perfect way to get into the holiday season without breaking the bank. All the quads come in built-in color stories that are to die for. I love that these can be used wet or dry, so you can choose your intensity of your look.
"I use these with a flat shadow brush that helps build the product on the lid. I love that these can also be applied with the fingers for an even bigger payoff." — Jaikaran
Deal not yet announced
"This is a face cream that hydrates but is also makeup-friendly. You only need small amount. I massage it on the face and neck, then let it absorb before applying foundation." — Nick Barose, celebrity makeup artist
"Tatcha.com site visitors will be invited to 'pick a card' and reveal their mystery offer," the brand says in a release. "Visitors are invited to play every day for the chance to unlock three" offers in total, but can only play once per day." Available 11/28 to 12/1
"The body butter is the most luxurious body cream. It looks and feels good, and is rich but not greasy. You don't need a lot of it. A little goes a long way, and it adds such a nice glow to the skin." — Barose
20 percent off all orders; Available 11/28 to 12/1 with promo code TURKEY20
"The mascara is so rich and black. It adds instant drama to the lashes — and definitely deserves its name." — Barose
Deal not yet announced
"I literally go through Bioderma Micellar Water like it's actual water. I use this to wipe the face clean with a cotton pad before starting a makeup routine, I use it to diffuse makeup that can look too perfect, and I use to to remove all traces of makeup at the end of the day. It's truly a must-have!" — Ashleigh Ciucci, editorial makeup artist
20 percent off sitewide; Available 11/29 to 12/1
"One of the best clean beauty brands out there. I apply a gentle pump of the True Skin Serum Foundation with a foundation brush, dabbing it onto my forehead, cheeks and chin. Then I take a damp beauty blender, tapping and blending for a flawless and touchable complexion." — Ciucci
45 percent off site-wide; Available now
"The exfoliator has microfine round exfoliators, making it gentle enough to use three times a week. My skincare is able to get to the happy new surface that's been hiding underneath a layer of dead cells, leaving my face feeling like a baby's bum." — Ciucci
Up to 20 percent off in-store at Bluemercury; Available 11/20 to 12/14
"I love this cream because it hydrates and moisturizes fast! Since it's winter, I need something that can quench dehydrated skin quickly. I warm it up with my fingers to activate the ingredients. Once it's translucent, I press and massage into the skin before I use foundation." — Keita Moore, makeup artist
25 percent off purchases under $150, 30 percent off purchases over $150; Available now
"I love the shade range and texture of shadows. You'll get some mattes, some frosts, and some pretty sparkly shadows for a shimmery finish. It's perfect for the holidays. I use the mattes with a eyeshadow crease brush and apply the frosty, sparkly shades onto the lids with my fingertips. The natural moistness from your fingertips makes the shadows stick, and you get no fall out." — Moore
Up to 30 percent off; Available 11/28 to 12/2
"I love these concealers because they are lightweight, full-coverage, non-drying, and available in 30 great shades for women of every complexion. I use them by tapping a little bit on my clients' dark areas and blending with my fingertips." — Moore