Pomelo's Perfect Black Blazer Is The Wardrobe Staple Every Closet Needs
Shutterstock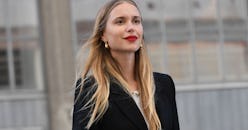 Whether you style them playfully feminine or seriously crisp, blazers have probably won a section in your closet already. Beyond being the perfect piece to transform any outfit into office wear, is there another jacket that can go from conservatively preppy, to street style, to punk show, all depending on your mood? While beloved for their versatility, searching for the best affordable blazers can feel like looking for the needle in a haystack. Many come with high price tags, while still others feel too outdated to pair with your modern workwear staples.
With such a saturated market, turn to Pomelo for this piece at the most affordable prices. Affordability is key when expanding your work wear collection; Pomelo's clothing is inexpensive enough that you can buy a whole week's worth of blazers without breaking the bank.
One such affordable blazer is the artistically constructed Adalie Poet Sleeve blazer, with romantic drawstring sleeve details balanced by subtle shoulder padding for $59.99 — a fair price for an item that will get weekly office wear. Many incorporate seasonal trends as well, like this neon green blazer for $55.99, which is perfect for going from the cubicle to happy hour. If the green feels too bold for your office environment, tone it down by throwing it on over a muted turtleneck and black slacks.
Ready to go into winter with a new work wardrobe? Scroll down to browse 12 of the best affordable blazers by Pomelo, then head over to its website yourself and get more acquainted with the emerging store.