11 Winter Makeup Trends To Try If You Hate Glitter
Rosdiana Ciaravolo/Getty Images Entertainment/Getty Images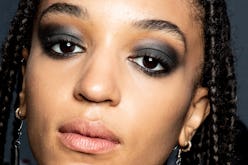 In the beauty world, "winter" often gets conflated with "holiday." Seasonal trend reports tend to feature over-the-top sparkle and shine, highlighting chunky glitter shadows and last-all-night lipsticks. But what about makeup for the winter days in between the parties? The random Tuesday mornings, the Friday evening happy hours? I'm happy to report the 11 winter 2019 makeup trends ahead, as picked by the pros, offer inspiration for exactly that.
"For winter 2019, there will be several trends at play, including frosted pastels," Fatima Thomas, a runway makeup artist and Senior Artist with MAC, tells The Zoe Report. Think iced-out blue, cool lavender, and baby pink. "I've been into cooler neutral colors," Gilbert Soliz, a global artist for Marc Jacobs Beauty, adds in an email to TZR. "I love how they sculpt and play up the eyes."
A little farther down the face, Thomas predicts a return to rosy cheeks. "Expect to see a lot of outdoors vibes, like fresh cheeks," she says; adding, "everyone will want to hang on to the juiced-up, hydrated glow of summer months by incorporating advanced skincare products." (The matte finish from last winter? I don't know her.) "The lips are usually the focus this season as we find darker lipsticks coming into play," Jaleesa Jakairan, a makeup artist who's worked on runway beauty for Fenty, tells The Zoe Report. "My color mood has been cool blues, warm browns, and crimson shades." All totally wearable, even on a random Tuesday.
Ahead, the only 11 winter makeup trends you need to know about — none of which feature a fleck of glitter — according to professional MUAs.
Smudged Lips
"Smudged lips became a huge beauty trend in K-beauty before making waves in the U.S.," Jaikaran says. "This look focuses color in the center of the lip, while it softly blends out on the edges." To get the look, apply lipstick at the center and press the lips together to "sheer it out," she says. "It helps to take a dry Q-tip and buff the edges out even more to complete the look."
Slept-In Liner
"I think we'll be seeing smudged-eyeshadows-as-liner trend into winter, as the color ranges and textures have become something we're experimenting with more," Neil Scibelli, a celebrity makeup artist who works with Elle Macpherson, tells The Zoe Report. "I personally love a sultry or 'slept-in' eye versus something too precise for winter. Use a flat liner brush to dip into your shadows and use along the lash line, then smudge as desired."
Lit-From-Within Finish
If Justin St Clair, the makeup artist behind Celine Dion's latest looks, could describe his winter 2019 vibe in one phrase? "Glowing-from-within skin." To get the look, stash your full coverage foundations and keep summer's tinted moisturizer in rotation.
Oxblood Lips
"Oxblood lips are great on any skin tone," St Clair says. If that feels too heavy for everyday, the MUA says to "blot down a layer of a dark lip color for a more stained look."
Healthy, Flushed Cheeks
"Fresh, rosy cheeks add a much-desired vitality to winter skin," Thomas says. "I skip over powder blush in favor of MAC Cosmetics Powder Kiss Lipstick, which moonlights as an awesome cream blush."
Colorful, Smoked-Out Eyes
"One of the easiest ways to embrace a classic winter trend is smoked-out eyes," according to Jaikaran. "The difference we're seeing is that they're not just grey or black but a lot of pink, reds, and blues. Makeup has become more playful and fun — even with a brighter color, the smokey finish is achieved with black liner and lots of mascara."
Watercolor Eyes
"Watercolor eyeshadow is something colorful, yet soft and dreamy," St Clair says. The best part? Getting the look is basically an arts and crafts project. "Have as much fun as possible by combining colors and being unexpected," he instructs — with light, subtle shadows, you really can't go wrong.
Double Wing Liner
Upgrade your go-to cat eye with what Soliz calls "the double wing" — like a traditional wing, but twice as nice. He uses the Huda Beauty Life Liner Duo for somewhat-tricky trend: "Use the creamy black pencil to sketch desired shape, then flip pen around and layer on a slick liquid layer to sharpen your cat eye," he says. "Then use Marc Jacobs Beauty Highliner Liquid Eyeliner over the top in 'Blitz Coin for dimension.'"
Glossy Lips
"My teen makeup goals are becoming a thing again — pastels on the eyes and super glossy lips," Myiesha Sewell, a Sephora Beauty Director, tells The Zoe Report. To make the look wearable for everyday, she recommends "a clear gloss like Sephora Collection Colorful Gloss Balm in Balm Diggity. Letting your natural lip color shine through will keep the look fresh."
"One Wash" Shadow
"Using a bright pastel color from lash to brow pays tribute to '70s disco," Soliz says. "Fading it from the crease to brow makes this look fresh and current." He recommends the shade Haze from Huda Beauty's Mercury Retrograde palette. "Use a medium natural brush to pat and build color on the lid, then gently buff up and blend towards the brow," he says.
Frosted Pink Lips
"Frosted pastels are really cool for winter," Thomas says, especially on the lips. "MAC Cosmetics Frost Lipstick in Fabby is a pearly mauve-pink that works on a wide range of skin tones," she says. "Deeper skin tones can pair it with MAC Cosmetics Lip Pencil in Plum and lighter skin tones with MAC Cosmetics Lip Pencil in Soar."
Fluffy Lashes
"Sweater weather always makes me want to have fluffy, matte lashes," Sewell says. "Marc Jacobs Velvet Noir Major Volume Mascara delivers beautiful, fluffy, thick lashes. It's easy to layer and the brush is a great size to maneuver different shapes." The makeup artist also recommends a lash primer (like Lancôme Cils Booster XL Super-Enhancing Mascara Base) to up the fluff factor of your current mascara — but falsies get the job done, too. "Sephora Collection Luxe False Lashes are a must-try. They're the closest I've ever seen to actual lash extensions."