Jane Iredale Is launching A Matte Foundation That Actually Moisturizes Your Skin
Courtesy of jane iredale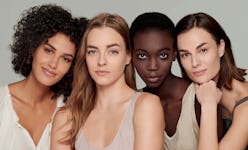 Though matte coverage may be the most popular foundation finish at the moment, it also can be one of the trickiest to get right. Chalk it up to the fact that a silky, matte finish can be unforgiving on certain skin types (especially if your face is on the drier side). Which is exactly why jane iredale's new Beyond Matte Liquid Foundation is so exciting; officially available online Aug. 26 and retailing at $50 per bottle, the new foundation from jane iredale actually is formulated to help moisturize your skin, something virtually unheard of when it comes to matte coverage.
You can thank the foundation's moisture-enhancing Xilogel, an ingredient that mixes together tamarind seed with a plant-based hyaluronic acid. When combined — and thrown into the Beyond Matte foundation's formula — the two ingredients work in tandem to hydrate your skin, improving skin elasticity along the way.
And while Xilogel sounds like something pulled right off a chemist's shelf, the Beyond Matte foundation is made without many ingredients clean beauty fans avoid, such as parabens, phthalates, talc, and artificial dyes, amongst others. (Additionally, the formula is completely cruelty free and vegan, relying on a blend of linseed and celery seed extracts called PoreTect to help tone your skin and minimize the appearance of pores.)
But even though the formula focuses on cleaner ingredients, it's still powerful, boasting a three-in-one effect. No primer is necessary when using the Beyond Matte foundation: The product claims to act as a primer, foundation, and concealer, all rolled into one formula. Shoppers will be able to achieve medium to full coverage using the 18 shades available, with jane iredale noting in the product description that the foundation formula is buildable.
So, regardless of whether your skin is oily, dry, or somewhere in between, it seems like jane iredale's latest addition will make it easier than ever to achieve an on-trend matte finish. Snag your own bottle of the Beyond Matte Liquid Foundation while it's available for pre-order on JaneIredale.com, or grab it when it officially arrives online Aug. 26.