These Are The Stocking Stuffers That The Beauty Lovers In Your Life Are Definitely Hoping For
Herbivore Botanicals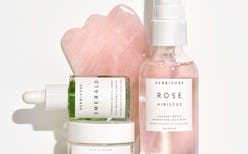 So, you have a beauty lover in your life. Usually, this is a great thing. It means you have a sister to steal products from, a cousin to call up for lipstick recommendations, or a friend to gently walk you through a customized skincare routine (that they probably drafted up just for you). But shopping for them? That's trickier. Especially if you yourself have no idea what's trending in the beauty community — and which new 2019 beauty stocking stuffers your favorite makeup connoisseur secretly has on their wish list.
Lucky for you, you've come to the right place for recommendations. The beauty community does move fast — dropping new products virtually every day around the holidays — but there are tried-and-true brands that cut through the noise. And ahead are a handful that'll thrill any makeup or skincare aficionado you have on your list, whether they prefer new indie brands or established cult favorites they can show off on their vanity.
And, since these are stocking stuffers, don't expect to see any product over $100 — or so big that it wouldn't fit into a festive, sock-shaped bag. Below, 11 recently released beauty products that any makeup or skincare fan would love to find in their stocking.