11 Layering Ideas That Will Completely Transform Your Winter Style
@slipintostyle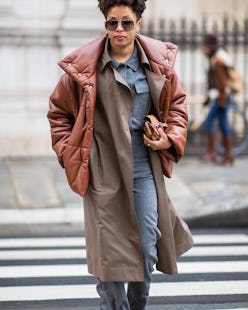 Getting the right layers on together is a sort of styling puzzle. You start with a light turtleneck and tights, try to find the right chunky knit, and the puffer jacket or heavy coat that can coordinate with it all. But don't despair in the extra time and effort required to get it just so: Assembling various textures, weights, and colors gets you to think outside of your usual closet staples. Instead of falling back on just a few pieces, the end goal is to find new and creative layered winter outfits that go beyond the simple sweater and blazer, resulting in a final look that's warm, comfy, and aesthetically pleasing.
Playing with proportion and print — especially incorporating bolder warm-weather trends in the mix — can help you frame your winter pieces in a new way. You've already seen some of these winter layering ideas employed on the Spring/Summer runways — Khaite's expert layering of dresses and jeans, and Louis Vuitton's print-clashed sweater vest for example. But head-to-toe runway looks don't necessarily translate to snowy sidewalks. Now, inspired by how these ideas have trickled down into street style, you'll be ready to recreate them at home. Continue on below for a number of experimental layering ideas, out-of-the-box combinations, and bespoke bundled looks that will transform your winter basics into anything but.
Style A Sweater With A Beaded Summer Top
A knit sweater and trousers set is a solid, warm base to build from. and adding a knee-length skirt over the pants creates nice levels on bottom for an elegant sweeping effect. But the hero of this look is undoubtedly the pearl-beaded, summery crop top layered over the turtleneck, which lends a trendy, fashion-girl touch to it all.
Layer A Blazer Under Your Outerwear
Sometimes wearing pieces in the "wrong" way is actually a more interesting approach. Who says you can't wear a longline blazer under a sweater and then put another blazer on top? Feel free to break rules and experiment with unconventional arrangements and order of your layers.
Add Long Knit Layers Over Shorter Ones
Neutral pieces are perfect for layering — a clean, minimalist color palette makes it easy to mix lengths and textures without things ever looking busy. For a modern combination, layer a slouchy knit turtleneck and maxi skirt under a longline tunic or sweater vest, all in tonal shades of beige, oatmeal, and cream.
Use A Scarf To Belt Your Outfit
A chunky turtleneck, plaid vest, pleated mini and black tights isn't in itself a groundbreaking ensemble, albeit a perfect example of classic prep style. But, pin a scarf around the waist and let the fringed ends drape down the side, and it instantly gains a cool, modern edge — with not much effort.
Wear An Oversized Scarf Like A Poncho
An oversized scarf is a versatile piece in your winter layering arsenal. You can wear it the traditional ways, like over both shoulders and encircling the neck, mix things up and try styling it asymmetrically across the chest and belted, as demonstrated above.
Wear A Slip Dress Over A Button-Down
Flimsy slip dresses are a tricky garment to wear once the weather gets cold. You could add a heavy coat, but then once you go inside you're left with bare shoulders that feel unseasonably exposed. Instead, consider adding a few layers underneath the strappy dress to make it a bit more wearable, like a crisp button-down and lightweight knit on top, and opaque tights on bottom.
Put Together An Outfit With Oversized Florals
Mixing prints can give your layered look some fashion-forward contrast. Pair complementary florals patterns — one in a classic palette, plus another in single tonal hue drawn from the first is a pretty foolproof way to go — then add a few other neutral layers for balance. Don't be afraid to wear multiple longline, oversized layers either — it's a look much beloved by Mary-Kate and Ashley Olsen.
Style A Midi Dress Over Structured Trousers
Another example of long-on-long done right: a handkerchief-hem midi dress over wide-leg wool trousers. The combo has a sophisticated yet relaxed quality about it that fits right in with the oversized, slouchy themes that are dominating trends right now. If you choose to go with earth tones for your dress and pants, opt for a coat in a bright hue for a statement-making pop of color.
Style A Floaty Skirt With An Ultra-Long Cardigan
A long, buttoned cardigan is a fresh alternative to your standard sweater dress. Give the look a feminine twist and some extra dimension by layering over a delicate, floaty skirt that's long enough to peek out from beneath by several inches. Finish with black tights and sleek patent shoes.
Use A Dickey Instead Of A Scarf
Sweater vests are making a comeback as of late, but their less popular cousin, the dickey — a sort of extended knit bib — might be even more versatile when it comes to creative layering. Its less constrictive construction allows it to be worn over things in a way that traditional vests can't.
Pair A Suit With A Ruffled Collar Top
Little details can go a long way when you're layering up. Instead of a plain turtleneck as the base layer under your suit and coat, try one with a high ruffled neckline or bold statement cuffs at the sleeves that stick out from your heavier pieces like a special, decorative flourish.