I've Used This Beauty Product Since High School, & I'm Still Obsessed With It
Imaxtree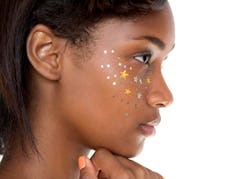 Those who know me well, know that I love a healthy — and regular — dose of nostalgia. Whether it be via a well-curated Spotify playlist (complete with the full Jenny From The Block-era discography) or a festive #TBT movie night, I enjoy a stroll down memory lane where I can reminisce about a time in which my main worries consisted of which Lip Smackers balm I'd employ for the day. That said, I especially find joy in reviving some of the throwback beauty products from the 2000s and channeling my inner teen dream.
These days, stocking up on my childhood favorites is getting easier and easier considering the '90s and early 2000s revival that's hitting both the fashion and beauty realms. Logo-laden bucket hats, tie-dye everything, shiny lip gloss, and all the glitter are being fully embraced and worn in abundance — and no one is reveling in said revival more than yours truly. I've stocked up on all of the above trends … and then some. In fact, this year's nostalgic renaissance has me doubling down on the beauty products of my childhood that never really left my heart (or my Caboodle).
I did a little inventory and realized there are quite a few items from the early aughts that still serve me well in my 30s. Yes, cult products like my Lancôme Juicy Tubes (which can be found in every purse and storage console in my car), Benefit Hoola Bronzer, and trusty NARS Blush (in Orgasm, of course), still work the same magic they did some 15 years ago. And with my 33 years of wisdom, I actually know how to apply them correctly now!
Ahead, check out the 10 throwback beauty products that I've kept a firm grip on as I've matured (in years, anyway), for nostalgic purposes and due to the fact that they actually still work wonders for my glam. So, let's all take a journey back to the early aughts, when pop princesses and boy bands ruled the radio and butterfly clips fluttered in everyone's hair. 'Twas a good time, indeed.