The Only Foundations That Actually Keep My Dry Skin Hydrated & Glowing
Roy Rochlin/Getty Images Entertainment/Getty Images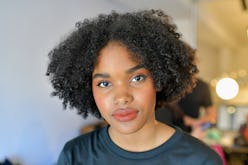 Anyone that knows me has probably heard me complain about my dry skin. And while I've found some solid solutions for my flaky face over the past few years, there's nothing that unravels all my hard work and shows my skin for what it truly is than foundation. For some reason, when I put it on, it somehow highlights every dry patch so that they show even more than before. And since that's the opposite of what I want my foundation to do, I've been on a longtime quest to find a foundation for dry skin that simply leaves my skin looking calm and glowy — with not a flake in sight.
My holy grail? It's one many before me have sworn by for dry skin, too, and for good reason. When my skin's at its most parched, Koh Gen Do's Maifanshi Moisture Foundation swoops in with ingredients like hydrolyzed yeast and aloe extract to keep my skin moisturized and looking surprisingly dewy. At $77 per 0.71-ounce tube, it's not cheap — but considering one of these lasted me upwards of seven months and it somehow fools the world into thinking my skin isn't a dry, patchy mess, it's definitely worth the cost.
Unsurprisingly (given the typical state of my skin), Koh Gen Do's was one of the only foundations that actually solved my problem until 2019 happened and it seemed every brand realized there was a major market for moisturizing foundations. Suddenly, I had an abundance of new products to choose from — and I actually found a few that lived up to the hype.
One of those is Guerlain's new L'Essentiel Foundation, which launched in August and has since become one of my go-to products. The formula uses white cocoa bean extract to keep skin hydrated, and provides buildable coverage that always leaves me with an even-looking complexion and a subtle glow.
And thankfully, I've stumbled across a few others in the process of trying to find these miracle products. If you're anything like me and looking for something that will help you appear dewy and moisturized no matter the state of your skin, keep scrolling for nine options I've found that actually do just that.