Guerlain Is Releasing A Major New Makeup Launch — Here's Why It Deserves A Spot In Your Collection
Courtesy of Guerlain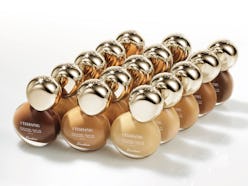 When someone tells you that you can have the best of both worlds, it's understandable if your initial reaction is skepticism. Even when it comes to your beauty regime, in particular foundation, it often seems like you've got to compromise performance in favor of natural ingredients (or vice versa), a natural look in favor of full coverage, or a luxe formula in favor of your perfect-match hue. Until now. That's because Guerlain's new L'Essentiel Foundation combines a silky, natural formula full of complexion-perfecting ingredients for glowier skin with every use — long story short, it is the best of both worlds and you'll want to try it ASAP.
When Guerlain announced that its forthcoming foundation would be its biggest makeup launch of the year, it's safe to say the expectations were set pretty high. Luckily, the brand's L'Essentiel Foundation lives up to the hype. By merging together a buildable coverage formula that features an inclusive range of skin tones with an actually-hydrating finish that improves your complexion throughout the day, it's the luxe skincare-makeup hybrid your beauty shelf is missing.
"The essentials for beautiful skin and a complexion glowing with health come down to four words: moisturize, strengthen, protect, and balance," Guerlain Skincare Expert Frédéric Bonté tells The Zoe Report exclusively. "For L'Essentiel, we have developed a brand new technology capable of maintaining the biodiversity of this natural ecosystem throughout the day."
Available beginning Aug. 15 on Sephora's website, Guerlain's new L'Essentiel Foundation, $60, relies on 97 percent natural-origin ingredients, plant actives, and buildable mineral pigments, all of which work together to not only provide a fresh-faced, natural finish but also re-balance and protect your skin. Red algae and tara gum allow your skin to breathe throughout the day and protect your face from harmful pollution, white cocoa bean extract hydrates continually during wear, and the silky mineral pigment in 30 diverse shades provide luminous, natural coverage that doesn't knock your skin out of whack.
"Its silky smooth texture is easily applied with a buildable level of coverage. Its special brush allows the texture to glide over skin, leaving an ultra-soft and delicate finish that becomes one with skin and offers buildable coverage," Guerlain Makeup Expert Olivier Echaudemaison says to TZR. "But L'Essentiel goes even further: As you wear it, it does your skin good, making it even more beautiful."
TZR Shopping News Editor Anna Buckman, who took the new foundation for a pre-release test drive, can attest to its complexion-perfecting power. While most foundations don't mix well with her typically dry skin (spotting flaky patches mid-day isn't exactly ideal), she found L'Essentiel lived up to its promise of delivering a glowy face that lasts and a lightweight feel that made it effortless to blend and and wear. Apply it with its coordinating L'Essentiel Retractable Foundation Brush, $50, which features an ergonomic design and synthetic fibers treated with natural bamboo charcoal that keeps it fresh and clean after application.
Explore Guerlain's ground-breaking new launch further by scrolling below, and be sure you've got a reminder set for Aug. 15 to score it for yourself. The best of both worlds is nearly here, and it's ready to rock yours.