Upgrade Your Table Setting With This $20 Dinnerware Set From World Market
Pixel-Shot/Shutterstock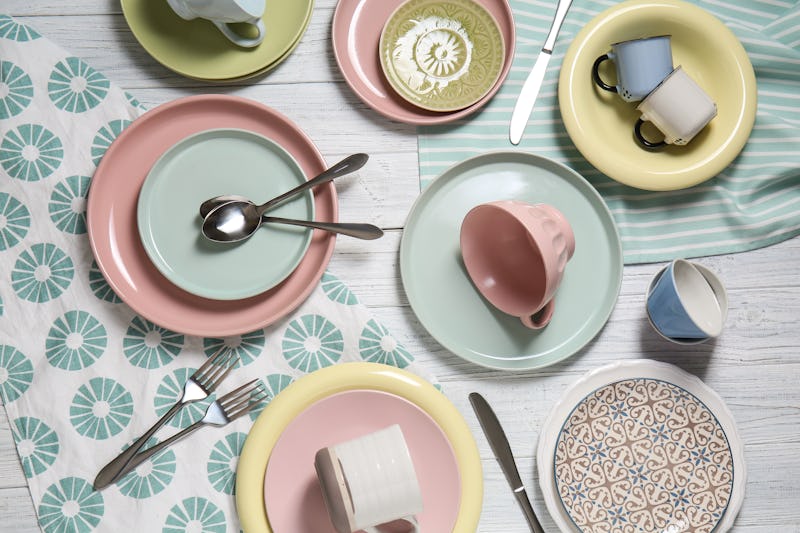 If it's your goal to be a bit more social this year, it might be time to brush up on your hostessing skills and turn your home into a picture perfect dinner party locale. And that doesn't just mean learning some tasty new recipes: Upgrading your tablescape will also make your place feel so much more inviting — and make you feel like the domestic goddess you've always wanted to be. Concerned about your budget? Don't be. You actually don't have to spend a lot for a seriously chic effect. In fact, with so many affordable dinnerware sets on the market, you can save some extra cash for a fancy bottle of bubbly.
Even if you're not planning for a dinner party, design experts say that keeping your dinner table set year-round is one of the simplest and least expensive ways to make your home feel more put together. And there are a few dining essentials you'll want to have on hand to do so, like a neutral table linen, some artsy napkin rings for a touch of glam, versatile glassware that can be used for wine, water, or whatever else you're drinking, and of course a floral centerpiece — even if it's one you can easily DIY.
That said, if you're still serving meals on your mishmash collection of plates, it's probably time to consider investing in a new set. And the good news is, some of the best ones around don't have to be a splurge. Your favorite home goods retailers, like World Market, IKEA, and Target offer a wide range of multi-piece sets for well under the $40 mark — and they run the gamut from bold and colorful to clean and minimalist. So no matter what your desired aesthetic is, you can find one that totally suits your style.
Ready to start shopping? Ahead, find 10 dinnerware sets that will perfectly dress up your table for your next dinner party — or just make you feel a little fancier when it's only a party of one.