Zara Home's Collaboration With Cabana Magazine Channels The Joy Of Travel
It will ignite your wanderlust.
Courtesy of Zara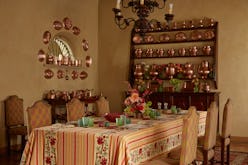 We may receive a portion of sales if you purchase a product through a link in this article.
For some, collecting trinkets and treasures from their travels is a carefully curated and long-term passion project, slowly but surely accumulating and giving the home a personal, eclectic touch that can't be duplicated. But what about those who perhaps don't get out as often or don't have an eye or interest in collectables. Well, as luck would have it, you can still give your home that rustic, well-traveled aesthetic thanks to Zara Home's latest collaboration with interiors publication Cabana Magazine.
According to the official press release, the colorful dining collection is inspired by "distant lands" and designed to reflect Cabana's "elegant, bohemian spirit." This translates to vibrant patterned tablecloths, colorful glassware, and soft linens featuring a dainty floral motif. "The collection conjures the joy of travel, spirit of adventure and discovery of culture," reads the release. "It pays homage to lost and ancient traditions with its colorful details and eye-catching embroidery, and celebrates both the thrill of travel and refuge of home."
In fact, to capture this essence and better appeal to the wanderluster, the collection's campaign was shot at the stunning Villa Ronche, a 17th-century villa near Venice, which was designed by prolific set designer Renzo Mongiardino. The outdoor imagery encapsulates a tranquil, serene moment in the Italian countryside, with lush green surroundings and a picturesque sunset naturally lighting the villa. Inside shots capture an equally comforting environment with brass decor lining stucco and a beautiful tablescape featuring the unique collection, setting the scene for joyful family dinner.
The beauty of Zara Home's latest collection is in its versatility. Each item is designed for layering and mix-and-matching, so it caters to a range of aesthetics and living spaces. Maximalists and those who gravitate toward a more eclectic look might be drawn to the whole collection, displaying it all together for garden variety of prints and colors that still feels cohesive. Those with more minimalist taste might pick up an item or two — we recommend the asparagus salt and pepper shakers or green glass vases — for a pop of color and interest. Whatever path is taken, rest assured this collection is sure to be a conversation starter at your next dinner party. Shop our top picks from the new collection below. Prices range from $13 to $289.