These Solo Date Ideas Make For The Most Memorable Valentine's Day
Enjoy your party of one to the fullest.
Shutterstock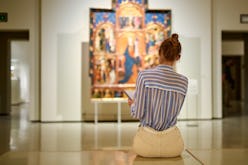 As Valentine's Day approaches, it may feel as if Cupid is putting in overtime plunging his arrows into hopeless romantics everywhere around the world — except at you. If you're lucky enough to survive the air strike this year, you can take solace in knowing that you won't have to pay premium prices for a less than stellar meal or stress to find the perfect gift for your special someone. While it's easy to feel singled out on a holiday designed for two, this Valentine's Day, celebrate your love for the single life instead.
Regardless of your outlook on February 14, the power of taking control and investing in yourself is priceless. In fact, possibly the most romantic thing you can do for yourself is show yourself a little TLC to calm the mind and body. Yes, in a world where jam-packed day planners and an endless to-do list reign supreme, taking a day off to shower yourself with self-love may just be the reason you end up loving this overrated Hallmark holiday. This year, create a memorable event for yourself with these eight solo date ideas that will convert even the most cynical critics of Saint Valentine into romantic heroines.
Spa Day
In the words of Donna and Tom from Parks And Recreation, "Treat yo' self." This year indulge in a day at the spa, a massage, blow-out, or mani/pedi (or all of the above). Investing in your outer beauty will inevitably have you feeling as good on the inside as you do on the outside. Even a little at-home facial, bathtub session, or manicure could be great for the soul. Because when you look good, you feel good.
Visit A Local Museum
Truth be told, there is some validity to the sentiment "knowledge is power." This year, explore your local museum or visit an art gallery you've had your eye on and expand your mind a bit. One could even make the argument that museum's are best enjoyed alone since you won't have to compromise your own experience to accommodate someone else. In the process, you might even learn something new about yourself.
Have A Mini Vacation
Get out of town — literally. A change of scenery can be just the thing you need to clear you head. While there's nothing wrong with cozying up on the couch, visiting a new place, making new memories, and spending some quality time dedicated to your every whim and desire is not only empowering, it's a necessity. Wether you choose to explore far off lands or keep things close to home, a small getaway is a great way to get break out of your everyday routine and try something new.
Try A Cooking Class
While it's been said the best way to a person's heart is through their stomach, we'd argue it's also a great way to nourish one's soul, too. This year, skip the exorbitant pre-fixed menus and get your hands dirty by signing yourself up for a class to learn some new cooking skills. If there are no in-person courses available, your local bookstore or library is another great way to discover new doorways into exotic cuisines via famous teachers and chefs, à la cookbooks. Besides, you never know who you might need to cook a romantic meal for in the future.
Paint & Sip
If you're bummed about spending V-day alone, don't just wine about it — put those feelings to canvas. Do a quick scroll through Eventbrite to discover local paint and sips happening in your area or search for a free tutorial on YouTube for a night well-spent. Naturally, you don't have to be Michelangelo to tap into your creative side but, you're inner child will relish at the sensory experience of getting messy. Not only will you be creating great memories, but you'll have a one-of-a-kind piece of artwork to take home at the end of the night, too. What a catch!
Go Gaming
This V-day, don't hate the player — play the game. What better way to protest this romantic holiday than to have a fun game night by yourself or with friends. Bet on yourself at your local arcade for some child-like nostalgia or host your own game night with a few friends who are also celebrating solo — UNO is a great one to start with.
Take A Hike
Spending some time surrounded by nature is a great way to get grounded, get a good workout in, and (most importantly) get off your phone. Whether you choose to hike solo or with a friend, heading to your local park and getting some steps in will leave you feeling accomplished and energized.
Indulge In A Movie Marathon
Whether your love life resembles a romantic comedy or a horror movie, a movie marathon is a great way to spend Valentine's Day riding solo. Not that anyone needs another excuse to binge watch more Netflix, however, choosing movies that drum up nostalgia or treating yourself to a Prime Video rental are great ways to make this holiday a little more special. And just like you would in a movie theatre, go all out with popcorn, chocolate, and everyone's favorite supporting character— wine.
"How you love yourself is how you teach others to love you," explains Canadian poet Rupi Kaur. And while you can't control the way others may feel about you, at the very least, you can control the way you feel about yourself. So, this year, be kind to yourself, focus on your inner light, take a breath, and treat yo' self the best way(s) you know how.