The Most Stylish Places To Indulge In Caviar Right Now
From classic pairings to inventive twists.
Junoon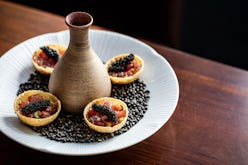 Long regarded as a staple in royal cuisine, caviar is a delicacy well-suited for those with a taste for the finer things (albeit, more expensive things as well). It's been enjoyed since the times of Aristotle but menus and palates have evolved quite a bit since then. Modern day chefs have become creative and inventive with the different techniques they use to implement caviar into their menus, ranging from caviar cannolis to ice cream pairings. Of course, traditional caviar service with accoutrements like creme fraîche and blinis will always be a thing for those who prefer timeless dishes.
It goes without saying, too, that the environment you enjoy any meal from is half the fun, and a bar or restaurant with a strong design point of view can elevate the experience of your caviar indulgences. Across the states, culinary hubs like New York City, New Orleans, and Charleston are celebrating caviar on their menus in unique ambiences worth traveling for. From a chandelier-encrusted lounge in The Big Easy, to a pop-up in Aspen adorned with artwork curated by the Gagosian, there's a stylish setting for every kind of caviar lover. Ahead, TZR rounds up the best spots to enjoy it from right now.
Aspen
There's no place like Aspen in the wintertime, particularly during those blissful après ski hours. If you're heading to these snowcapped mountains for some time on (and off) the slopes, make a pitstop at The Snow Lodge located at the St. Regis (and the sister of Montauk's Surf Lodge). The tented portion of the property is in partnership with Champagne brand Nicolas Feuillatte and it has a bubbly bar, caviar menu (including caviar 'bumps'), and velvet TOV furniture to enjoy all of it upon. You'll also want to make your way over to Hotel Jerome, Auberge Resorts Collection for their Champagne and caviar experience that leans on iconic brands like Petrossian, Krug, and Dom Perignon to solidify the pairing.
New York City
Replete with gastronomic indulgences in every borough, neighborhood, and street, New York City is a treasure trove of caviar spots. If you're looking for something with more of a traditional feel, HŪSO on Madison Avenue is a 12-seat tasting menu restaurant by executive chef Buddha Lo, who incorporates caviar into each course (and recently launched his private label Saint Urgeon). The moody interiors are awash in a pearl-blue hue with brass accents, custom oak cabinetry, quartz marble table tops, and American tin ceilings. For Michelin-star dining, Caviar Russe has been a midtown favorite for over 20 years and serves exclusive caviar bites and pairings. Also a classic institution in the city, The Peninsula's restaurant Clement invites guests to an indulgent breakfast featuring a Maine lobster egg toast with caviar sauce.
Newly opened Hotel Barrière Fouquet's New York introduces menu highlights from its legendary Paris location, including three classic caviar dishes, the Daurenki Royal and Imperial, Ossetra Imperial, and Garnish. Also new to the scene is the Tin Building by Jean-Georges in the Seaport, which hosts restaurant Double Yolk. Here, visitors can enjoy caviar and Champagne beginning at 5 p.m. And if you're interested in a non-traditional caviar pairing, make your way to Martiny's located in a three-level carriage house in Gramercy for a caviar bump (served on a wooden mannequin hand) paired with a mini dry gin martini.
In Flatiron, Michelin-starred Indian fine dining destination Junoon serves a Tuna Puchka, which features tuna, black salt, cilantro jaljeera, and wild-caught caviar from Trufflin. COTE Korean Steakhouse also combines caviar with vibrant flavors for its caviar service. Enjoy creme fraiche, chives, and buttered Korean milk toast or order the steak and eggs — hand-cut filet mignon tartare with regiis ova kaluga royal hybrid caviar and Korean milk toast. L'Abeille, which just opened in Tribeca last spring, just launched Le Caviar, which is a caviar service featuring premium osetra caviar accompanied by accouterments like crème fraîche, chives, egg yolk, blinis, and special canapés (with the option to upgrade with a Champagne add-on).
For caviar with bird's eye views, Nubeluz at the Ritz-Carlton New York, NoMad is the place. Chef José Andrés offers different caviar services ranging from bumps to classic pairings with potato chips and whipped crème fraîche. If you enjoy a side of history with your caviar, make a reservation at The Grid at Great Jones Distillery, the first whiskey distillery in Manhattan since prohibition that's currently serving a house made brioche with spent grain butter and golden kaluga caviar. Apotheke NoMad, sister of the award-winning Chinatown locale, opened last July with a menu featuring Siberian select, ossetra, and keluga supreme caviar (each with a distinct flavor profile that would pair perfectly with the bar's iconic cocktails).
Charleston
The Quinte at The Pinch Hotel by Matthew Williams
The Quinte at The Pinch Hotel by Matthew Williams
Everyone knows Charleston is a food-lover's paradise, and now with The Quinte — the city's newest oyster bar — there's an intimate, chic place to enjoy caviar from. Sit at the 12-seat custom-made marble bar for caviar service with buckwheat blini, creme fraiche, ham rendering, and chive. You can also head to Camellias located inside Hotel Bennett. It's a pink, egg-shaped room designed to resemble a Faberge jewelry box (mirrored ceiling and all) and guests can order from a decadent selection of caviar to pair with crème fraiche, blini, egg yolk, and onion.
Washington D.C.
A trip to Washington D.C. is arguably incomplete without a reservation at three-Michelin starred restaurant The Inn at Little Washington. Chef Patrick O'Connell (sometimes referred to as the 'pope of American cuisine') sources the highest quality ingredients from around the world, including caviar. In the '70s, he introduced Americans to caviar in a way that felt both timeless and fun, delicious and whimsical. In 2018, The Inn at Little Washington teamed up with Petrossian to source superior caviar from a boutique producer, ultimately purchasing the entirety of their stock, which is now served exclusively at the property.
California
In Los Angeles there's a rock n' roll inspired Italian restaurant called Grandmaster Records — an unexpected (but blissful) destination for Petrossian caviar right now. It's located in a former recording studio from the '70s and a standout order here is the caviar cannoli with whipped crème fraiche (for obvious reasons). In late January, Beverly Hills will launch a series called 'Happy Trails' that will outline the best offerings in the city, including a 'Caviar and Bubbly' trail. Stops include scrambled eggs and caviar at Jean-Georges at Waldorf Astoria Beverly Hills all the way to dinner at French bistro Avec Nous at L'Ermitage Beverly Hills, paired with Regiis Ova Osetra caviar and Champagne. Saltie Girl (a beloved Boston restaurant) recently opened in Los Angeles and has a unique menu entirely dedicated to caviar and there's even the signature martini, which has caviar-studded castelvetrano olives, pickled onion and a choice of vodka or gin.
Up in San Francisco, Chef Michael Mina's The Bungalow Kitchen in Tiburon offers caviar with a view of the bay. Order the parfait, a crispy potato cake topped with smoked salmon, egg mimosa, and whipped crème fraiche topped with a layer of Chef Mina's private label caviar. Over at Hilda and Jesse (one of the San Francisco Chronicle's Top San Francisco Restaurants) guests can relish in the French rolled omelette served with seven grams of kaluga caviar and bonito butter. Nearby, Birch & Rye is mixing things up with caviar and donuts. It's the only Russian restaurant in America currently listed on the Michelin guide and this delicacy is not to be missed (opt for the sparkling wine flight to go with it). And if you find yourself up north in wine country, Hanson of Sonoma Distillery has a signature martini and caviar pairing at their distillery, with each martini made to complement a selection of Hanson Caviar sourced exclusively by Regiis Ova.
Boston
A coastal city beloved for its seafood, Boston is unsurprisingly great for caviar. Beginning at The Wig Shop, a retro wig-themed cocktail lounge, caviar is offered from 11 p.m. to 1:30 a.m. by Chef John Malone. The Potato Chipped and Charred Onion Dip brings a playful element to caviar, and should be enjoyed with a pour from their exclusive Champagne list. And because you're in Boston, land of lobster, head for Rare at Encore Boston Harbor for a lobster roll topped with truffles and caviar.
Houston & Dallas
When in Dallas, a visit to Rosewood Mansion on Turtle Creek is a must for epicureans. Since its debut in 1980, the on-property Mansion Restaurant has been a fixture and the menu has tasty highlights including a one-ounce platinum ossetra caviar that comes with crème fraîche, chives, grated egg, diced shallot, and blinis. Meanwhile over in Houston, The Lounge at MARCH in Houston (an award-winning fine dining restaurant) introduces guests to different regions of the Mediterranean with each of its tasting menus, as well as caviar service based on that region. The next menu will launch on February 10 with a menu focusing on Greece.
Montana
A breathtaking après expérience for Champagne and caviar lovers alike, Montage Big Sky in Montana is the place to be this winter. Enjoy mountain culinary delights like pumpkin fondue, Montana bison chili, and traditional caviar service — all complemented by Veuve Cliquot's yellow label, rosé, La Grande Dame 2012, and La Grande Dame 2015. The setting will be punctuated with designs by Paola Paronetto, the artist behind the packaging design of La Grande Dame 2015 with its six colorful gift boxes made using her inventive paper clay technique.
New Orleans
Miss River at the Four Seasons Hotel New Orleans
The Big Easy is a city anchored in indulgence, so it should come as no surprise that opportunities to enjoy caviar in a stylish setting abound. Kick things off at Pommes Marilou at Bar Marilou with their crispy potatoes topped with crème fraiche and bowfin caviar. At Miss River at the Four Seasons Hotel New Orleans, guests can devour caviar and sweet corn ice cream in the hotel's signature lobby-level restaurant. You'll also want to make a pitstop at Chandelier Bar in the same hotel for their blue crab roll served on a freshly-toasted brioche roll with jumbo lump crabmeat and paddlefish caviar. Lastly, caviar service at Cure is must — 1.25 ounces of cajun caviar and Zapp's potato chips, served alongside a creamy sour cream and onion dip.
Portland
If you're in Portland, make it a priority to dine at Kachka, helmed by chef Bonnie Morales. They sustainably source caviar and cure their own roe, and offer different ways to enjoy this delicacy. There's the traditional service with fresh blini plus a playful spin with the caviar served atop French onion dip with cool ranch Doritos. You can take it even further with their most indulgent caviar dish: the potato vareniki dumplings with caviar beurre blanc (best enjoyed with vodka or a bottle of bubbly).