Miranda Kerr Just Shared Her Post-Split Heartbreak Story, And We Can Totally Relate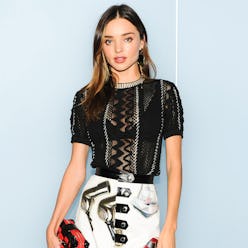 It's been three years since Miranda Kerr split from Orlando Bloom, and now the supermodel is ready to talk about the mental and emotional toll her divorce took on her. In an exclusive interview with ELLE Canada, Miranda revealed that she suffered from depression following the end of her marriage. "I never understood the depth of that feeling or the reality of that because I was naturally a very happy person," she said.
Once she recognized the problem, she actively took steps such as meditating twice a day, using aromatherapy oil and practicing yoga to improve her wellbeing. "And also, when I wake up and when I go to bed, I have that attitude of gratitude and I say, 'Thank you for this beautiful day, for this roof over my head, for the fact that I have my health and my son has his health, and thank you for our family,'" she added.
The couple's 5-year-old son, Flynn, is one of the reasons they remain on good terms. "It was really hard to make the decision, but our son is our priority so you have to come from love," she said. Fortunately, the model is much happier now (especially after her recent engagement to Snapchat founder Evan Spiegel). While we're not relishing the fact she suffered, we can totally relate to her struggle, which might be the first and only thing we share with the beauty.