The Fit-For-A-Royal Workout That Gives Meghan Markle Immediate Results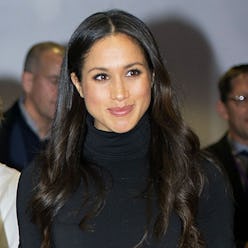 Ever since the royal family announced Prince Harry and Meghan Markle's engagement, the world has been clamoring for more of Markle. We know the Suits actress, philanthropist and advocate supports her beau's love of all things bananas (the duo is rumored to even have a banana wedding cake), and we just learned which workout Markle turns to for keeping her body strong.
"Pilates Platinum is hands down the best thing you could do for your body," the royal bride-to-be tells Harper's Bazaar. The buzzy Los Angeles studio chain, founded by Markle's friend and personal trainer Heather Dorak, focuses its workouts around Sebastien Lagree's hurts-so-good Megaformer. And Markle swears the sweat sesh will have you shaking in your toe socks.
"Your body changes immediately," she says. "Give it two classes, and you will see a difference." The studio currently has four locations in the LA area that Markle says are filled with "cool, unpretentious, and motivating" people.
Markle also told Women's Health UK that she loves "an intense vinyasa class" (ideally one set to hip-hop music in a dark, candlelit room)' running ("it allows me to get out of my head"), and the feeling she gets after a great workout. "Sometimes the idea of working out sounds absolutely dreadful, but I always remind myself of how good it will feel afterward," she says. "Euphoric, almost!"
And living a healthy lifestyle has always been Markle's jam. (It doesn't hurt that her mom was a yoga instructor.) The born-and-raised California girl and former lifestyle blogger claimed "most things can be cured with either yoga, the beach, or a few avocados," in Vanity Fair earlier this year. I'm won't argue with that!
This was article was originally published on Well + Good.