Eat This, Skip That: A Nutritionist Walks You Through Your Holiday Party Strategy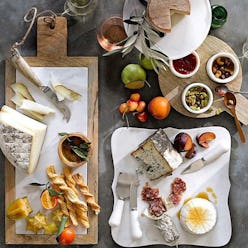 When it comes to getting dressed for a holiday party, you've got that on lock. But what about your eating strategy? No matter how healthy you've been this year up until now, let's face it: cheese is a formidable opponent. For those looking to indulge without regrets the next morning, "Simple swaps can save hundreds of calories," says Tanya Zuckerbrot, MS, RD, founder of F-Factor Nutrition. So follow these holiday party eating rules and you can have the best of both worlds: appetizers and abs.
Rule #1: Don't show up starving.
If you know you've got a night full of eating and drinking ahead, it's common to keep things light at lunchtime in anticipation. But don't make the rookie mistake of showing up on an empty stomach. "Skipping meals or snacks to save up calories is counter-productive," says Zuckerbrot. Instead, "Eat a light snack that contains both fiber and protein before your holiday function so you arrive satisfied, not famished. Grab a string cheese and small pear or have plain Greek yogurt with high fiber cereal to fill you up with relatively few calories."
Rule #2: Prioritize.
When faced with a buffet of yummy treats, it's tempting to start popping hors d'oeuvres as you make your way through. But in the immortal words of Cher Horowitz in Clueless, "Let's do a lap before we commit to a location." Scan the full buffet to find your favorite items, and start with one of each. "Stick to those choices and don't go back for a second round," says Zuckerbrot.
Rule #3: Always use a small plate.
"We tend to fill up whatever size plate we have in our hands, meaning we eat more calories when we eat from bigger plates," says Zuckerbrot. Always opt for an appetizer or dessert plate instead of a large one to ensure you don't come in way too hot on those canapés.
Rule #4: Pick a lighter drink.
"Wine or champagne contains just 100-120 calories per glass, while many blended cocktails and eggnog clock in at over 300-400 calories," says Zuckerbrot. Alternate between a glass of wine or champagne and a glass of water to stay hydrated.
Rule #5: Choose the right food.
When it comes to what to eat, knowing a little background info can help you make better choices. For example, Zuckerbrot says a half cup of roasted nuts (which might seem like a healthy choice) can pack over 400 calories, and usually tons of salt. And just five seemingly innocent cubes of cheese can clear 300 calories. Better choices: roasted chestnuts, which have only around 104 calories per half cup according to Zuckerbrot. And instead of popping cheese cubes, spread a small amount of soft cheese like goat or ricotta onto two crackers to cut down the fat and calories.
Rule #6: Less is not always more.
Avoid anything greasy and fried, such as pigs in a blanket, mini crab cakes, and mini cheeseburgers. Zuckerbrot says sticking to protein, such as chicken skewers, turkey meatballs, and shrimp cocktail, will keep it lean while allowing you to indulge. In fact, if you pick healthier apps, you can eat more—as in six cocktail shrimp instead of just one tiny slider. By doing so, you'll feel full and satisfied—and you'll even have room to sample some dessert.