10 Easy Lunch Recipes You Can Meal Prep For The Week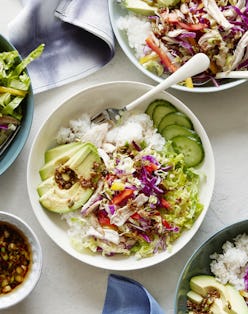 No matter our age, our industry, our job title, our personality or our income, there's one thing we can all agree on—it sucks to get hungry in the middle of the workday. When your stomach is screaming at you and the hanger starts to set in, all productivity goes out the window. And who has the time (or money) to go grab a balanced meal? No one.
It's a super-common problem, and it seems restaurants have not yet capitalized on the concept of making healthy, filling meals available on the go (for less than the price of an arm and a leg). Solution: Meal prep! We've rounded up ten of our favorite lunch recipes—and they're all perfect for making ahead of time. So spend a Sunday night prepping some food, then reap the benefits all week long. Your productivity will thank you (and so will your coworkers, considering how much happier you'll be with a full stomach!).
10 Easy Lunches To Meal Prep On Sunday
1. Thai Peanut Quinoa Jar
2. Nut-Free Pasta Salad
3. Pumpkin Tortilla Soup
Related: 4 Easy Recipes + Everything You Need To Make Them This Friendsgiving
4. Vegan Chopped Salad With Spiced Chickpeas
5. Turkey Pinwheels
Related: 20 Dinner Recipes To Meal Prep For The Week
6. Spinach Hummus Lunch Wraps
7. Garlic Parmesan Chicken With Brussels Sprouts
Related: 10 Crock-Pot Meals You Can Meal Prep On Sunday
8. Instant Pot Beef Stew
9. Black Bean Veggie Burger
10. Ginger Scallion Bowls
To view the original story, visit The Everygirl.