A Peek Into Our Fave Supermodel Workouts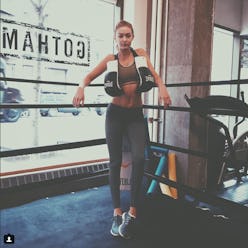 The secret to sticking to your workout routine is to find one that keeps you on your toes (we mean that in the most literal way possible). To find a fitness plan that's effective (and not boring), we took a peek into our favorite models' sweat sessions via their Instagram feeds. From boxing to paddleboarding, these supermodel-approved workouts are the perfect inspiration to kick you into gear.
Boxing
No matter how busy Gigi Hadid gets, she always finds time to get in the ring and throw some boxing combinations. A series of jabs, hooks and uppercuts tones everything from arms to core.
Photo: @gigihadid
Yoga
Since yoga is a low-sweat kind of workout, Joan Smalls can sneak in an afternoon workout between meetings. Seemingly simple poses do a number on your muscles and get you lean and toned from shoulders to legs.
Photo: @joansmalls
Paddleboarding
Paddleboarding is the perfect way to work out your arms and core, while also soaking up some sun and fresh air. Extra points for Behati Prinsloo, who gets in touch with her gymnastics roots during her breaks.
Photo: @behatiprinsloo
Reformer Pilates
Workout warrior Karlie Kloss has experimented with everything from marathon running to boxing. Here she gets a full-body workout on a Pilates reformer.
Photo: @karliekloss
Interval Training
Interval training focuses on specific zones (like arms, core and legs) and requires performing high-intensity, pulsing moments for minutes at a time. Ever wondered how Alessandra Ambrosio stays fit? Now you know.
Photo: @alessandraambrosio