12 Things Healthy Girls Do Before 7AM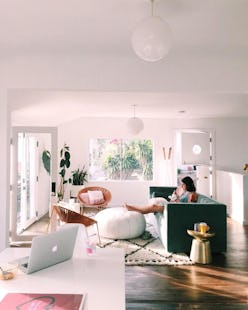 Even if you're not a self-ascribed "morning person," the wee hours before the day begins can serve as a great opportunity for self-care, wellness, creativity, reflection—and yes, even productivity. Here are 12 things you can do before the clock strikes 7 a.m. to put your best foot forward.
1. Drink a big glass of water. Experts agree that drinking more water in general is a simple step with two core benefits: It boosts metabolism and hydrates your body. Especially after sleeping all night, it's important to rehydrate as soon as you wake to feel more energized. Set a goal of drinking a big glass of water in the morning right after waking up—before downing a cup of coffee, before grabbing a bite to eat, before taking a shower—before anything. Make it a part of your usual morning repertoire to avoid feeling sluggish or tired.
2. Eat a healthy breakfast. Before you claim that you don't have time to eat breakfast, listen up: Research indicates noshing first thing can lead to lower body mass index, better memory, improved attention skills, and increased daily calcium and fiber intake. Besides, a full stomach makes it easier to pass on less nutritious items later in the day…like those office donuts. Not sure what to make? We've got you covered with breakfast bowls, healthy ideas, and sweet or savory options. If your mornings are usually rushed, try prepping your meal the night before.
3. Limit phone use. Unless it is absolutely critical for your line of work, don't check your phone the second you open your eyes. Give yourself at least a little time to be fully present instead of falling prey to the reactive, response mode that all those notifications and alerts promote. Stay off social media, don't check your email, ignore that text message alert. This allows your morning to be a way to set the tone for a brand new day.
Photo Credit: Katarzyna Tusk
4. Make your bed. You've heard it a million times by now: The most successful people make their bed every single day. Pros argue that if you begin your day with a small, completed task, then it feels easier to accomplish even more things going forward.
5. Carve out 15-30 minutes for yourself. It is easy to "save" time later in the day to be creative, but it's often better to place it at the top of your to-do list. Set aside 15 or 30 minutes every morning to do something just for you, just because you like to do it. Write, draw, paint, listen to your favorite playlist, practice French…whatever it is. If early morning is the only bit of "me time" you get before the rush of a busy day, use it to get your imagination revved up. Another option is to spend a few minutes reflecting before beginning your day. This could mean journaling or meditating.
6. Connect with someone you love. Pet your dog. Smile at your roommate. Text your sibling. Call your grandparents (hey, they're always up early, right?). Write a thank you card to a coworker.
Photo Credit: Audrey Hubert
7. Establish a skincare routine and stick to it. So you work out, you eat healthy, you drink water—but don't forget to take care of your skin! Your routine can be a quick 4-5 step process, and if you have extra time, throw in a gentle face mask or a spritz of spa-like hydrating mist while you brush your teeth. And it's not just the skin above your neckline that's important; remember, take care of your arms and legs with hydrating body lotion, and apply the same care as you would to your face to your neck and décolletage.
8. Pack your lunch. We all know that brown bagging it saves money in the long run, but it also ensures that you don't skip your midday break later on. Lunch doesn't have to be a complicated effort, as shown by these easy workweek options we put together.
9. Clean one area. Ugh, we know. Who wants to do any chores in the morning before a long day of work? We're not suggesting pulling out the mop bucket, Monica Gellar. You can make a big impact in less than 15 minutes. Plus, when you return home from work, the chore you hate (and put off for as long as possible) won't be waiting and you can head straight to the wine bottle, guilt free.
Photo Credit: With Love From Kat
10. Prep dinner. Similar to making lunch, it only takes about fifteen minutes to throw together a crockpot recipe for dinner. Seriously, nothing beats arriving home at the end of a long day to the smell of black bean taco chili, cashew chicken, or honey lime ginger pork.
11. Make a to-do list. It's easy to start the day with your head swimming with everything you need to do. Stop, take a breathe, and start writing. Be realistic about what you can accomplish and try to plan out your day.
12. Move your body. Aside from feeling insanely accomplished, morning workouts reduce stress, boost endorphins, stoke your metabolism, and flat out make you feel like a million bucks. Whether it is a quick run outside, a group fitness class, or yoga poses in the middle of your living room, moving your body in the morning is a great way to jumpstart your morning. Another perk: Getting it in early means you don't have to force your way to a crowded gym after 5 p.m.
For more helpful tricks & tips head to The Everygirl.com.