Aruba Locals Swear By This Genius Productivity Trick — And Now So Do I
What I learned from my visit to the One Happy Island.
Natasha Marsh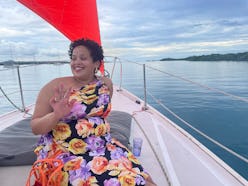 Hustling is often the name of the game when you're a freelance writer and editor. Connecting with different people, having my eye on multiple industries and trends, and producing written content for a variety of publications has certainly been enjoyable throughout my time as a journalist. However, it's not lost on me that the nature of my job, not to mention the culture of New York City where I reside, fuels this go-go-go energy that many creatives (myself included) lean into. Much of the time, the lengthy to-do list that keeps me productive also seems to simultaneously hold me captive. I only became aware of this dichotomy during a recent five-day media trip to Aruba, known widely as "one happy island," where the intention was to explore the island and its many attractions. Instead, I received a valuable lesson in how to achieve true rest and inner peace.
Yes, between the enlightening conversations with locals and the ultra-luxe stay in an overwater bungalow at Aruba Ocean Villas (which featured a full kitchen, outdoor wet bar, open-air showers, and private hot tub and plunge pool) I unlearned a lot of negative behaviors around productivity and work ethic. In fact my five days on the island left me with some crucial lessons that I would surely take home with me to the bustling streets of NYC.
Ahead, the three key takeaways I gleaned from my stay in Aruba.
Be On Your Own Timeline
Staying at Aruba Ocean Villas, an enchanting and intimate 13-bungalow resort (home to the only overwater villas in Aruba) nestled in the island's capital of Savaneta, I had a chance to develop a nice rapport with the hotel staff. As a designer, owner Osyth Henriquez, intentionally crafted each space after her loved ones — encompassing unique personality, passions, hobbies, and character of each. For example, Mai Wisha (the bungalow I stayed in) is inspired by Henriquez's mother-in-law, while the piano villa, Chupi, draws from her musician son. Although the resort has been open since 2017, changes are constantly being made to the property. When you model the accommodations after people, it only makes sense that new memories would inspire fresh revisions and updates.
In speaking to Henriquez about how long until the resort's renovations and additional villas will be completed, she smiled. The designer explained that, while the additional villas are planned to be ready later in the year, as an artist, she will never be done nurturing her vision. In other words, she is not tied to tight deadlines or due dates, but instead is led by what feels right in a moment or season. Of course, this route isn't applicable in all fields, but I found it relevant to my general frenetic practice of crossing off accomplishments, and feeling guilty when my own timelines for personal or work projects are off. Our conversation also reminded me that some tasks take longer than others and the importance of giving myself grace if and when that happens. I resolved in that moment to trust and enjoy the creative process going forward.
You're Not Going To Please Everyone
"If you don't like bugs and you don't like nature, this is not the place for you," Henriquez told me. It was her matter-of-a-fact and peaceful delivery that made me realize how much of my personal agenda centered around pleasing others. Apart from the hard deadlines, my work schedule is filled with an absurd amount of appointments and engagements that I could very well say no to. But, because I've been conditioned to believe busyness yields productivity, they stay at the top of my list. Instead of respectfully declining an invitation that doesn't serve me, I've gotten good at fitting everything in — not realizing that it's the root cause of my dwindling energy.
Henriquez's laissez faire, unbothered approach to the petty complaints of mosquitos, roaming cats, and chirping birds inside the palapas hit me like a breath of fresh air. It was a stark contrast to hospitality in major metropolitan cities like New York, where staff stop at no cost to make sure their guests feel content and attended too — often, in fear of receiving the dreaded bad review. Henriquez's easy-going attitude reminded me it's OK to not please everyone, something I've also struggled with over the course of my career.
Yes, Resting Is Productive
The past three years have certainly found me in the busiest season to date. The increased down time at home that so many experienced led to more people turning to their phones and devices for news and entertainment. As a result, the need for written content was in more demand than ever, as was my work. The amount of articles I was assigned per week increased substantially. Not only that, with the racial reckoning that sparked from George Floyd's 2020 murder, the outcry for BIPOC writers and representation in media ran rampant, further fueling the assignments and work coming my way. In Aruba, it became evident that because of this, I truly had no idea how to relax anymore. And worse, I felt like I wasn't serving my purpose when I even thought about resting, sleeping, or taking time for myself. My ever-growing to-do list was so much more important.
However, over the course of those five days, I learned the value of pausing and allowing myself some enjoyment. I spent my days taking aerial yoga at The Hyatt Regency, hiking through the Ayo Rock Formations where I discovered ancient indigenous rock drawings showing the ornate history of the island, e-biking along the various beaches with the Divi & Tamarijn Aruba All-Inclusive Hotel, getting to know the artists at the Aruba Art Fair, and reading on my private terrace that overlooked the Caribbean Sea.
This type of rest and relaxation of the mind gives you clarity in your thoughts, habits, and life patterns. But most importantly, it allows you to recenter — a crucial productivity act for all creatives. Aruba isn't just a pretty Caribbean island with translucent beaches and kind-hearted locals — it's also a place where you are awarded the silence and agency to think about who you are and who you want to be. With so much noise pollution in New York City, being submerged in the calm, yet still-hard-working culture of Aruba, I began to understand that success, productivity, and restorative inner peace can truly live in harmony.