My Epic Cooking Summit In Argentina Affirmed That Experience Travel Is On The Rise
I'll take a trip over a mortgage any day.
Nicole Kliest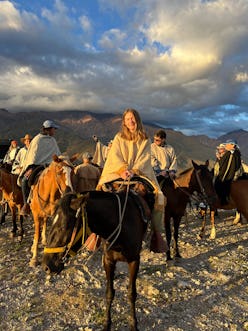 If you're really lucky, there's a moment while traveling when you find yourself completely immersed in your surroundings, no looming thoughts that thread you back home, only the present. For me, it's the pursuit of this very feeling that drives me to travel — and ultimately — what motivates me to care more about experiences rather than things. This sensation happened for me earlier this year when myself and 20 others traveled across the world to attend an intimate cooking summit led by chef Francis Mallmann at The Vines Resort & Spa in Mendoza's Uco Valley. Over the course of five days, I learned about his Seven Fires cooking techniques and was introduced to unmatchable fine Argentinian wines with director Mariana Onofri — all with one of the planet's most majestic landscapes as a backdrop. It was somewhere between Mallmann divulging his metaphorical language of cooking and me climbing the Andes on horseback just before sunrise that it registered — I am here, and I never will be again.
Of course, a profound travel experience resonates differently depending on the person. But more broadly speaking, prioritizing experience over things is a rising trend. TravelLocal Co-Founder Huw Owens says he's seen a dramatic shift in recent years, with accommodation options even going as far as to bracket themselves as being in the 'experience economy' to appeal to visitors. "A lot of requests we receive are centered on experiences," Owens says. "This trend also has an underlying vibe of stripping away layers, being true to yourself, forging a bond with the people and the locale you're passing through, making a connection."
'Connection' is a motif that comes up a lot when I'm at the cooking summit with The Vines; it's an explorer's club made up of members who travel to winemaking regions around the world to learn the craft from legends and to dive deep into the local culture, whether that's in Montalcino or Mendoza (the latter being the flagship outpost). "We've often said from the beginning that the members aren't just buying a vineyard or making wine, they're becoming part of a community and getting unique, curated, casual experiences," Founder Michael Evans says, offering examples of lunch with Antoine Roland-Billecart in his private dining room in Champagne and listening to Chef Mallmann play his guitar as a couple of examples that members have gotten to take part in.
I begin my journey with The Vines gathered around a large dome under the scorching Argentinian summer sun. Chef Mallmann is there waiting for us. "Every time I start a fire I have this feeling it's my first day because it keeps on surprising me, keeps on teaching me things," he says to the group. This spirit of learning — and willingness to keep trying — is the through line for the summit. "It's like being a child again, that's the beauty of cooking. We have to keep close to that child." He shows us how to build a fire with just one match, and we spend the rest of the day participating in sessions like knife skills, Argentine empanada and pizza cooking class, and Seven Fires training at the Infiernillo (or "little devil"), an ancient technique using two fires with a cooking level between them.
Throughout the next few days, I continue immersing in Mallmann's Seven Fires, a collection of open-flame cooking techniques that are an homage to his home country of Argentina and the fires of his childhood in the Patagonian mountains. The restaurant on-property — Siete Fuegos — is the only restaurant of Mallmann's in the world where he hosts all seven fires. Here, we also experience the sacred Parrilla used for asadas (traditional Argentinian barbecue), the dome from day one, and the Curanto where we learn how to grill meats and vegetables (this is the ancient pit style of cooking that's shown in Mallmann's Chef's Table Netflix episode).
Almost instantly from the moment Chef Mallmann began his summit, a strong sense of place was established. I was in Argentina, among the vineyards of the Uco Valley, at the foothills of the staggering Andes mountain range. I felt thousands of miles away from home and it completely fed my soul. "For me, a luxury experience means doing something that's authentic and true to the destination," Owens says. "I think to really deliver that you have to flip the travel industry on its head and put local people, based in the destination, in direct contact with the traveler rather than hiding that in-destination expertise. You have to 'look behind the curtain'' and beyond the bland brochure-ware that tends to prevail." If ever there were a time that I felt most 'in with the locals' it was here — having Chef Mallmann preside over my red onion chopping and sipping Torrontés and Malbec with fellow wine lovers.
Courtesy of Nicole Kliest
Courtesy of Nicole Kliest
We were given the opportunity to take our cultural immersion a step further and rise just before 5 a.m. for a sunrise horseback ride in the Andes. Myself and a small group set off from the property under an inky black sky toward the mountains and traversed the uphill trails with only the stars to light our paths. As we neared the peak of the mountain, the colors changed and a beautiful palette of orange, red, and pink washed over our heads. When we finally made it to the top, there was a traditional Mendocino breakfast with warm mate tea and a small bonfire waiting for us. To me, it felt like magic. And it was around this moment when my stance on unique luxury experiences over costly purchases felt not just affirmed, but strengthened.
All too soon, I found myself at our farewell meal — a long table situated within the vineyards surrounded by strung lights and the sun setting over the Andes in the background. Somehow in a mere few days, the group had become tight knit and the conversations lively and familial, despite no one knowing anything about the other's political views or belief systems. The next day before checking out and flying home, I share this observation with Evans over breakfast. "The table is the antidote," he replies. "People come to share experiences and time together. We need more of that table setting and table building; it's really hard to be a jerk when you're enjoying good wine and food together."
While it may seem unwise to some to prioritize going on trips and having experiences such as this in lieu of saving up for a house or trading crypto, the opportunity and privilege to connect with diverse people and cultures fulfills my life purpose. Probably, more than any object ever could.