White Wine Is Stealing Rosé's Thunder This Summer
These are the ones to try before Labor Day.
Courtesy of Blindfold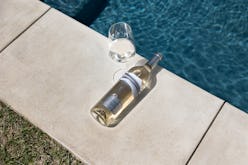 We may receive a portion of sales if you purchase a product through a link in this article.
There's a world of wonderful white wines waiting to be discovered and it seems more and more consumers are ready to explore. According to the 2023 Consumer Report from BevAlc's Insights by Drizly, white wines are up 28% as a go-to summer beverage compared to previous years. Roman Horvath MW (Master of Wine) and winery director of Domäne Wachau in Austria says, "Light and refreshing white wines are extremely versatile as we move from cooler to warmer months."
And while Chardonnay and Sauvignon Blanc are the more widely known and available, due to mass production, there are definitely lesser-known wines that pack all of the punch of their famous friends, and have just as much, if not more, pizzaz. For a great place to start, Horvath points to one of his establishment's signature varietals, Grüner Veltliner, as a prime example. "Like Chardonnay and Sauvignon Blanc, Grüner Veltliner is an approachable, easy-drinking dry wine that can pair with a wide variety of dishes, from light appetizers to a summer barbecue," he says.
Jon Priest, senior winemaker and general manager of Etude Winery says the past few years of lockdown and time at home has seen more and more consumers "exploring their curiosity about wine." If you're part of this curious crowd, ahead, our two experts unpack the lesser known white wines that make for perfect summer sips.
Pinot Gris
If Pinot Gris sounds familiar, that's because of its sister drink, Pinot Grigio. Though different in many ways, they are both made from the same white wine grape, Pinot Gris. "Pinot Gris is a versatile grape, in that it yields a variety of colors, profiles, and flavors," Priest explains. "These factors depend on the region its grown — though it really grows best in cool climates — as well as the winemaking style."
When it comes to its flavor profile, Priest believes that it will satisfy almost every palate and is "a nice middle ground between other popular white wines, like Chardonnay and Sauvignon Blanc," citing that it's drier than Chardonnay and less aromatic than Sauvignon Blanc. As for its notes, Etude's Pinot Gris boasts floral and tropical notes, making it refreshing and quenching for summer. "The sipper immediately detects guava, kiwi, white peach, and lychee, while fresh Meyer lemon and citrus blossom come through on the palate. It's delicate, creamy, and round with a lean line of acidity and rich mouthfeel, with a long and dry finish," which also makes Pinot Gris Priest's wine of choice on a balmy summer evening.
Grüner Veltliner
Most Grüner Veltliner is produced in Austria and is the wine the country is famous for. In fact, Domäne Wachau has been rated one of the 20 best vineyards in the world by World's Best Vineyards. Horvath tells us "the rocky soils of the steep terraced vineyards and the cool climate in the Wachau Valley," play a large part in making this wine so beautiful and unique. Other aspects are due to the care and delicacy Domäne Wachau implements in their winemaking process. He explains they harvest all of the Grüner Veltliner grapes by hand, allowing them to pick the fruit at its "optimal ripeness" before they're fermented in stainless steel, temperature-controlled tanks, which keep the "vibrant freshness and minerality of Grüner Veltliner," until its bottled. Another unique aspect of this wine is the "rocky soils of the steep terraced vineyards and the cool climate in the Wachau Valley."
This dry white wine is easy to drink yet hosts a complexity of flavor. "Grüner Veltliner has aromas of green apple, white pepper, hints of mango, and delicate herbal notes, with medium-body crisp acidity, juicy fruits, and white spice on the finish," Horvath relays. And according to him, this is a varietal that gets better with age. "The acidity remains intact, and the bouquet expresses exotic fruits, ripe peach, honey, and chamomile." The "easy drinking style" of a Federspiel makes it the ultimate summer wine. "[It's] perfect for grabbing on the go, to take with you to the park, or as an accompaniment to a beach picnic," Horvath notes.
While it's easy to see why Pinot Gris and Grüner Veltliner are on track for summer stardom, there are more white wine varietals to keep your eyes peeled for. Your taste buds will thank you.
Albariño
The thick-skinned Albariño grape loves cooler climates. Originating from the coastal region of Galicia in Spain, this dry white wine is also produced in Portugal and California. Winemaker Joseph Smith of Klinker Brick Winery in Lodi, CA shares that Albariño "is defined by high acidity and bright citrus flavors while traditionally being light in body."
White Wine Blends
A white wine blend is simply a wine made from more than one grape varietal. These blends allow winemakers to indulge their imaginations and create wines that highlight the unique characteristics of each grape and allow them to shine in an ensemble. Popular white wine blends include Vinho Verde, White Bordeaux, and private label bottles marked "blend" or listing its multiple grape varietals.
Summer White Wines Rules of Thumb
With so many interesting white wines to help broaden your horizons, the idea of choosing the right varietal can be daunting. Luckily our experts have easy shopping tips to follow. For Priest, it's all about personal preference and being mindful of who will be imbibing. "Pinot Gris is an excellent option if you're enjoying it with a crowd," he says. "Again, it's a versatile wine that is light and easy to drink, so it appeals to a variety of palates." He continues reminding consumers to also make a selection based on the occasion. "Oftentimes, this naturally goes hand in hand with food pairings."
If you're serving seafood at your summer soiree, Pinot Gris is a safe and delicious choice. "The crisp acidity makes it a nice pairing for aromatic, often spicy foods — a nice, summery example of this could be curry chicken skewers with lime or a jalapeno garlic butter shrimp," he says.
Horvath recommends pairing the "extremely versatile" Grüner Veltliner with fresh vegetables, "especially notoriously difficult to pair vegetables like asparagus or artichokes, as well as fish, pasta, and richer proteins." One of his other tips to help shoppers who are set on buying Grüner Veltliner from Austria is to pay careful attention to the label.
"The word 'Ried' on the label means 'Single Vineyard' and it is often a marker of a high quality," Horvath explains. "Federspiel stands for medium-bodied, elegant, mineral-driven wines. Smaragd stands for dry, dense, and more complex wines. These terms can be helpful when deciding whether to choose a light-bodied wine for a pool party, or a richer style wine for a BBQ dinner on the terrace."
Ready to toast to the summer season? Ahead, shop the experts' favorites to expand your white wine roster.