The TZR Guide To Après Ski
In no other sport is the "after" just as important as the "during."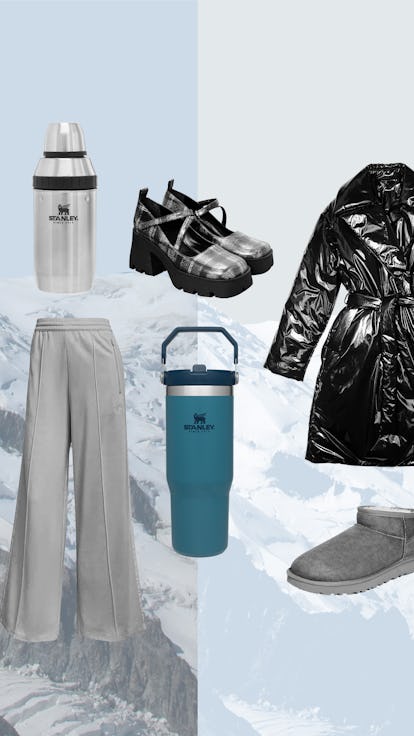 Whether you're an avid skier or a brand-new first-timer, it's undeniable that what comes après is one of — if not the — best parts of hitting the slopes. Sipping some hot chocolate or red wine out of an iconic Stanley GO Everyday Tumbler, cozying up in layers of cashmere and shearling, fighting off the cold with a roaring fire... there's just something about the ambience that's completely unrivaled.
This winter, plans for holiday travel are on the rise — even if it's just with family or close friends. But just because gatherings may be smaller, doesn't mean you can't still get creative. And taking an intimate ski vacation, particularly within driving distance, is at the top of many peoples' lists. Why? For one, in no other sport is the "after" as enjoyable as the "during." And that includes how you look while doing it. Though functional and built for high-performance, I'm a firm believer that cold-weather gear doesn't need to compromise on style — especially once a day of runs is complete. Waterproof pants and insulated turtlenecks are traded in for super-soft cashmere and fur-lined footwear as you cozy up for an evening at the lodge (or your weekend cabin rental).
Though ski trips may seem intimidating, it really all comes down to preparation. Here, find everything you need to know about getting in on the après ski lifestyle. Think: Stanley beverage essentials, ideas for staying entertained, and, of course, endless outfit inspiration along the way.
Where To Go
If international travel doesn't seem like a total headache, destinations like the Alps (choose from Italy, France, or Switzerland) or northern Japan are some of the most thrilling places to discover. And though their après is naturally top-notch (look no further than this list of must-visit bars in Val d'Isere), if you'd rather stay domestic, the options are just as good. Head west for skiing in Park City, Utah or Jackson, Wyoming (and post up at the paradise that is the Amangiri) or take a drive to more local east coast haunts like Stowe, Vermont or Massachussettes' the Berkshires. (Plus, there are tons of other trending ski spots worldwide to choose from).
What To Pack
There's the obvious pieces needed for the obvious (being out in the snow) — boots, thermal leggings, and lots of Uniqlo Heattech — and then there's the not-so-obvious for anything else that might pop up. Beloved for over 100 years, Stanley's commitment to how both hot and cold drinks are consumed means its portable bottles have become essentials for all-day hydration; plus, they're pieces that will keep your social media stories looking totally enviable. Pack the Classic Stay Hot French Press for a quick morning pick-me-up (it's large enough to brew enough for the whole group) and keep your brew warm while you commute from the lodge to the mountain with a 16-oz. Classic Trigger-Action Travel Mug that allows for easy, single-handed sipping with the press of a button.
In the evenings, Stanley's Adventure Happy Hour Cocktail Shaker Set has everything you need to prepare drinks in or outdoors. The all-in-one piece keeps leaks and spills at bay, and a versatile 10-oz. GO Everyday Tumbler will keep warm and cold drinks at the perfect temperature. And for everyday hydration, try out the 30-oz. IceFlow Flip Straw Tumbler, which features a folding handle for a quick grab-and-go moment.
What To Wear
We may not all be lucky enough to have a full fall 2021 runway look at our disposal, but we can embrace plenty of this season's best trends anyway: the celeb-favorite lug-sole shoe trend, knit bralettes, and inventive layering. Look for comfortable materials that are meant for lounging in soft neutrals and pretty pastels — like a matching set or a chunky sweater. Texture plays a major part in the unofficial après ski uniform. As does silhouette. While jeans may be the easiest pair of pants to style, track pants and loose-fitting trousers strike the right balance between casual and on-trend. Finish off every look with a pair of classic mini boot slippers and a longline puffer you can wear over anything (and that doubles as a blanket if you get too chilly), and a hydration accessory like the Stanley 40-oz. Adventure Quencher Travel Tumbler, or the perfectly pocket-sized Stanley Master Unbreakable Hip Flask to keep your favorite warm winter cocktail at the ready. Here's to looking good on and off the mountain.