This Insta-Famous Treehouse Is Available On Airbnb
Mark Kolbe/Getty Images News/Getty Images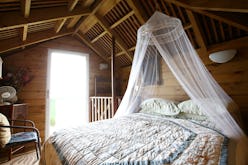 Posting pictures of dreamy landscapes and stunning skyline views is all part of the fun when it comes to taking a trip. With this considered, it's really no wonder that the destinations deemed most Instagram-worthy are among the most popular. What's more, many of the latest travel trends include unique accommodations that check off bucket-list experiences. Luckily, some of the most popular Airbnb rentals are just such places.
With Airbnbers in on the Instagram fun, the trendy accommodation site ranked the 10 most-liked Airbnb homes from 2018, all taken by travelers who've stayed in them. From a strategically-placed bathtub with mountain views, to a bed overlooking the desert, to an A-frame within a tropical jungle, it's no wonder that scrollers couldn't resist the double-click. (Side note: If living the la dolce vita is your idea of the ultimate escape, note that four of the homes on this list are located in Italy.)
Ahead, check out the 10 most-liked Airbnb homes on Instagram from 2018, in order of popularity. If your winter cabin fever has you feeling some travel regret, keep in mind that you still have time to book a last-minute getaway for spring, no matter your budget.
There's something about a tub with a view; the idea of relaxing in warm suds while feasting your eyes on a vast expanse of beauty is simply irresistible. In any case, this photo by @chachi86, which was re-posted on Airbnb's Insta account, amassed over 106k digital hearts.
Nestled on the Amalfi Coast is a mill-turned-dwelling with views that look like they're straight from a fairytale. Featuring a window-framed peek at the surrounding town, it's no wonder that @jugglesatparties's snap earned almost 90k likes.
With over 70k likes, this shot from @cristinarnieto captures tranquility, a luxury many of us crave (especially if you live in NYC). What it doesn't show is the unique architecture of this home, which is situated on stilts and overlooks a swimmable pond on the other side.
Beachy locations may be the destinations-du-jour, but for a change of pace, this pic by @alalam100 proves that deserts can be just as awe-inspiring. As it turns out, the over 65k Instagrammers who "hearted" this photo seem to feel the same.
Travelers looking for adventure and solitude can get the best of both worlds at this Moroccan riad, captured by @theresatorp. Nearly 60k scrollers were charmed by this private pool, an oasis away from the hustle and bustle of a souk-filled city.
#6: The Boat House || New South Wales, Australia
Sun, seclusion, and blue river views, this photo by @sarahlianhan gives off plenty of postcard vibes. It's no wonder it earned over 55k fans on the 'gram, undoubtedly spreading some serious scroll-envy.
Airbnber @jonisan's post paints the scene for an idyllic Italian escape. A patio overlooking pastel-painted buildings, plus a table holding a book and two glasses of vino (at least, one would think) set the hearts of more than 50k fans aflutter.
Lake Como lives up to the hype in this photo by @sssoph90, which has nearly 50k likes. When you imagine sitting in the sun, gazing at the scenery, and sipping a mug of cappuccino, it's easy to understand why so many scrollers gave this pic the double-click.
Poolside, oceanside ... why not have both? With nearly 50k likes, @lizbedor's snap shows that you can have it all — gorgeous views, privacy, and an Italian experience you'll never forget — in one epic vacation.
#10: The Triangle Siargao || General Luna, Siargao Island Philippines
A-frames were all the rage in 2017, and they're still high on the trendy accommodation list. Located in the tropical jungles if the Philippines, it's no wonder that this photo by @thetriangle.siargao has nearly 46k likes.