This Is The Paint Color Trend That Will Dominate NYC In 2020
According to interior designers.
Courtesy of Zoë Feldman Design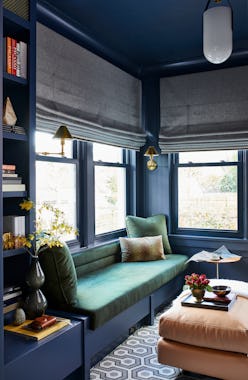 It's clear from paint brands' 2020 colors of the year that there's a common theme: blue. Sherwin-Williams chose a dark navy, PPG Paints went with a rich, dusty blue, and Dunn-Edwards opted for a minty shade. But according to interior designers across the country, the paint colors that will actually be trending in 2020 are slightly more varied.
In fact, it's not just specific colors themselves that are trending; it's more about new color families and moods (and how you use them in your space). Sure, blue *is* having a moment in some cities — but according to many designers, creating warm, tonal rooms and finding new ways to use neutral hues is really what they're focusing on, rather than trying to incorporate one or two popular colors.
In Austin, Texas, that means trading bright whites for dark grays. In San Francisco, California, it's all about replacing cool hues with warm, muddy shades. And in New York City, nature-inspired colors are making a comeback.
Though preferences vary by both city and by client, of course, it's clear that 2020 marks a turning point for colors in the home. Keep scrolling to see how that's going to play out in your area of the country — and how to incorporate 2020's paint trends across America into your own space.
Austin, Texas
According to Allison Crawford, the creator of HOTELette and founder and owner of Allison Crawford Design, it's all about bringing the outside in for Austin. "Bright white walls have been the go-to paint choice for years," she tells The Zoe Report in an email. "I think it's time to mix it up by bringing the darker, moodier colors we've been seeing as exterior paint choices inside. I'm excited for colors like Farrow and Ball's 'Railings,' Clare's 'Blackish,' or Benjamin Moore's 'Soot' to be on the rise in 2020."
As for how to incorporate those darker hues into your space? "Unless you're going for a moody vibe — a la HOTELette Austin — I recommend offsetting the darker paint color with whites — be it tile, linens, or curtains," Crawford explains. "Then, add personality through vintage furniture and easily switched-out pillows and throws. Metals like brass and chrome really pop on dark walls, too!"
San Francisco, California
For San Francisco, the principal of interior design firm Form + Field Christine Lin predicts a different vibe. "Warm, muddy hues of yellow, orange, reds, and browns are everywhere in clothing right now, and interiors tend to follow," she tells TZR. "Cool grays, blues, and greens have been very popular the past decade and people want to embrace something fresh and different now."
Though she does admit that "a mustard or burnt orange room might be too bold for most," Lin explains that there alternative colors you can use that allow you to achieve the same warm effect, like burgundy or rich brown. Or, just try them in a smaller area of the home. "Another idea is to use warm colors in smaller, transitional spaces such as a powder room or entry rather than a large living room or master bedroom, or create a painted design on the wall that incorporates a warm hue," she says.
Washington, D.C.
Similarly, Zoë Feldman, founder and principal designer of boutique interior design firm Zoë Feldman Design, explains that warm, tonal rooms are a trend she's seeing on the rise in Washington, D.C. And for Feldman, that means another paint trend is on its way out: "Accent walls — we are definitely in a more saturated place in design."
To achieve that saturated look with this trend, she has a few color suggestions: "Select a warm color such as an earthy red for walls, lighten the trim with a chalky blush, and add warmth with a darker mulberry." But if that's not really your hue, no problem. "Grab a paint deck, pick a color you like and use the value scale to play with tonality," Feldman suggests.
Seattle, Washington
While Charlie Hellstern, principal of Charlie Hellstern Interior Design, tells TZR that poppy pinks are "on trend right now," most of the firm's clients in Seattle are still gravitating toward traditional colors like blues and warm neutrals.
"We are inspired by the natural environment of the home when selecting paint colors," she says. "We are seeing a new take on neutrals with beautiful grays, creams, and light blues. Cool, pale blues balance warm tones and natural materials that are so heavily used in design in the PNW."
According to Hellstern, how you incorporate those types of colors in your home should be be inspired by your surroundings as well. "We would choose a neutral wall color to paint throughout a beach cabin derived from the color of the surrounding beach grass given that wouldn't compete with the art on the walls," she explains. "For a mid-century modern remodel on a bluff we would paint the internal walls and window frames dark to enhance their embracing affect and to allow people to see the water view without distraction."
New York, New York
Though the gray scale remains a go-to for basic pigment for interior designer Laurie Blumenfeld-Russo of Laurie Blumenfeld Design, she also says that people in her city are starting to open up to new ideas in terms of color. "I'm seeing blush tones as the new gray," Blumenfeld-Russo tells TZR. "'First Light' by Benjamin Moore is subtle and soft, not too feminine or saturated. I would layer the space with gray and lavender accents to create a sophisticated airy design."
Soft, airy tones aren't the only color trends she predicts for NYC, though. "On the other end of the spectrum, I am also seeing a revitalized trend toward colors inspired from nature, think greens, blues, lilacs."
Chicago, Illinois
For Chicago, 2020 is the year of in-betweens. "I'm using a lot of bold and quirky colors," says principal and interior designer of Summer Thornton Design, Summer Thornton. "Not primary colors, nor secondary, but hues that are on the cusp of multiple colors." However, using this trend in your own home means paying attention to the brightness of the hue. "When you use a bold color like this, it's critical to have enough muddy tones in the color so it doesn't look electric or too vibrant."
Thornton goes on to explain that paint isn't the only way they're adding color to Chicago spaces in 2020. "I also think wallpaper is coming back really strong and we're incorporating it into the vast majority of our projects," she tells TZR. "It allows us to tell multiple color stories on the walls, rather than a single color note."
And when it comes to what's on its way out for the midwestern city, Thornton predicts brown is falling by the wayside. "If I never saw another beige, taupe, brown, etc. room again I would be thrilled," she explains. "I think the evolution of it has been for some people to start incorporating other natural colors, like deep/rich shades of green or watery blues. To me these still feel neutral and but they're a lot fresher feeling, too."