Sherry Is Chic — A Beginner's Guide To Enjoying This Underrated Wine
Plus all the things you need to unlearn about it.
@barrasanotsla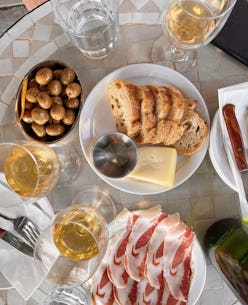 Flip phones are making a comeback, Y2K fashion has returned, and the kids are all drinking sherry again — it's an era of cultural nostalgia, all around. And while some may turn their noses up at the idea of wearing low-rise denim or butterfly hair clips, embracing a fortified wine like sherry is something all imbibers should get onboard with. "I think for a long time, and because of its history, an older generation of consumers enjoyed sherry long before the younger generation caught wind," Barra Santos beverage director Evelyn Goreshnik tells TZR, nodding to misconceptions of it being sweet or only for cooking as part of the reasoning. "There was not a huge priority with making it as 'cool' as wines or other spirits, but with Spanish and Portuguese restaurants becoming more prevalent, sherry has started to finally gain the attention it deserves."
In its most broad definition, sherry is a fortified wine that comes from Andalusia, Spain. It is primarily made from the Palomino grape (around 90%) and styles can range from bone dry to very sweet. It pairs excellently with food, stands out in a cocktail, and is among the more versatile wines you'll encounter. But despite all of this, awareness of sherry's true potential, it still feels like somewhat of a secret club among wine enthusiasts. Ahead, all of the reasons you should be drinking sherry plus a breakdown of how it's made and the range of styles to choose from.
To Begin: Where & How Sherry Is Made
Similar to how Champagne must come from the Champagne region of France, sherry is region specific. "Sherry can only come from the recognized denomination of origin DO (Denominacion de Origin) Jerez, which was designated in 1933," José Argudo López de Carrizosa of Gonzalez Byass says. The vineyards surround the southern Spanish town of Jerez de la Frontera and the wines must be matured either within Jerez or in one of two seaside towns: Sanlucar de Barrameda or El Puerto de Santa Maria.
In Jerez, the Mediterranean climate is warm and sunny. "The hot, dry levante wind intensifies the region's heat and blows from the east, essentially cooking the grapes on the vine during ripening," Carrizosa says. Then there's the poniente wind, which alternates with the levante. "The humid Atlantic poniente promotes the growth of flor, a film-forming yeast necessary in the maturation of sherry." One of the principal vineyard soils — called albariza — is also a vital component to sherry production and recognizable by its unique white color. "Albariza is a limestone soil that has been known to produce the best quality sherries," Goreshnik says. "The [composition] of shells and high calcium carbonate come from its presence in the ocean that covered that land millions of years ago."
Sherry's three grape varieties are Palomino, Pedro Ximénez, and Moscatel. Carrizosa explains that Palomino (which constitutes about 90% of the vineyard acreage in Jerez) is a neutral grape that's preferred for sherry production and is prized for its higher yields and disease resistance. "Moscatel and Pedro Ximénez are predominantly used for sweetening sherry," he says, adding that it's extremely rare for winemakers to bottle single varietal wines from these two grapes.
If there's one thing to take away from sherry production, it's that it is defined by the maturation (aging) process before bottling. This solera system is a rotating system of casks (or criaderas) that are arranged in tiers, resulting in a pyramid shape. "The solera system involves mixing wines that are in different stages of the aging process from the rows of casks that are stacked on top of each other, with the bottom row containing the oldest wine and the highest row containing the youngest wine," Carrizosa says. At specific intervals, wine is taken from the oldest casks for bottling. "This cask is then topped off with wine from the next tier up, and so on, until reaching the top row. The top-tier of casks then has 'base wine' added to it." Because of this, the wine that it is ultimately bottled is a mixture of all of these wines within the Solera system and does not have a specific vintage (year). "This blending of different vintages creates a more uniform and consistent product," Goreshnik says.
One additional process that impacts the style of sherry in the glass is whether the wine goes through biological versus oxidative aging. For the former, the sherry is in the presence of flor, which is essentially yeast that forms a thick layer on the surface of the wine in the barrel and gives unique flavors like almonds and dough. On the other hand, oxidative aging in barrels can give the wine notes of coffee and roasted nuts. In some cases, like with Amontillado (more on that ahead), both biological and oxidative aging are used.
The Many Styles of Sherry
As you've probably picked up on, sherry can be a tad complicated to wrap your head around. But here's the good news: You're not making it, you're drinking it. So why not acquaint yourself with the different styles to choose from?
Dry
Fino and Manzanilla: Both of these wines go through biological aging and therefore have aromas like almonds, herbs, bread, and citrus. Many people describe these wines as tangy or having salinity. Also worth noting is that they should be drank as soon as possible (as in, don't age these in your cellar).
Amontillado: This wine combines biological and oxidative aging, which gives it an amber color and notes of nuts, hazelnut, caramel, and brioche.
Oloroso: An oxidative wine that's full-bodied and brown in color, this wine tastes like toffee, spice, and nuts.
Palo Cortado: A rare style of sherry that tastes like an Amontillado but has the lushness of an Oloroso, these wines are typically very high quality.
Sweet
Pedro Ximenez: A very, very sweet wine that's deep brown in color and tastes of dried fruit, licorice, and coffee. Some PX's can even reach 500 grams per liter of residual sugar.
Pale Cream: These wines go through a period of biological aging and are then sweetened (usually with something called RCGM, or rectified concentrated grape must).
Medium and Cream: Medium sherries go through both biological and oxidative aging while a cream sherry just has oxidative characteristics. These wines are sweetened with PX.
A New Era For Sherry
Despite its complexity and versatility, sherry has traditionally been associated with a stuffy, older generation. But in recent years, the category has surged in popularity for a few reasons. "One has to be the craft cocktail movement where sherry plays a key role in revived or updated classic cocktails," Joe Campanale, co-owner of Fausto, Lalou, and Bar Vinazo, tells TZR. "Also there has recently been a huge quality revolution in sherry. More producers are farming organically or making wines from their own grapes or working in a more artisanal manner."
This new era of Sherry is shedding light on one of the biggest misconception about the fortified wine. "Most sherry is not sweet! In fact, due to the flor it is one of the driest wines in the world," Campanale says, adding that some of the most mass-produced sherries are sweet styles, which has contributed to the confusion. He also shares that those interested in further exploring should be on the lookout for unfortified wine made from sherry grapes and within the region. "Wines like Cota 45 and Luis Perez and a bunch of others present one of the most exciting movements in Spanish wine," he says. "I think these wines are so great because they showcase the terroir of sherry, the history of the wines (they weren't always fortified!) and due to the lower alcohol they are truly drinkable with a whole meal. They are also often extremely complex wines that represent excellent value."
Cocktails & Food Pairings
If you're just getting into Sherry, it's a good idea to drink it on its own to get a true sense of what the characteristics are among the different styles. And, as it goes with all wine across the board, pairing sherry with food can help highlight the flavor profiles. "The lighter styles like Fino and Manzanilla have a subtle salinity and nuttiness to them and therefore pair well with crudos, salads, cheeses, and ham," Goreshnik says. "The richer styles, preferably Amontillado, go well with richer dishes like Piri Piri chicken, fritters, and pork dishes." If you're interested in trying out a high quality sweet style, Carrizosa recommends cream sherries with sweet desserts or aged cheeses and Pedro Ximenez poured directly onto vanilla ice cream. "At Bar Vinazo, I really love the pairing of M. Antonio de la Riva 'La Riva' Manzanilla with our fideuà," Campanale says. "For a fancier pairing, Bodegas Tradición's Palo Cortado is an amazing pairing with our hand-sliced jamón ibérico."
When it comes to cocktail culture, sherry is appearing on more menus than ever. "It has a historic connection to mixed drinks," Carrizosa says, adding that the Sherry Cobbler was one of the first American cocktails. "Other pre-Prohibition or early 20th-Century cocktails that are making a comeback include the Adonis, generally made with Fino Sherry and sweet vermouth, and the Bamboo, which substitutes dry Vermouth mixed with Fino," he says. Another important role sherry is playing in cocktail culture is stepping in as a substitute. "Bartenders are incorporating all styles of sherry to add complexity and lower the proof of traditional cocktails by substituting sherry for higher-alcohol spirits," Carrizosa says.