Spicy Cocktail Season Is Upon Us, & These Recipes Are Especially Hot
Add sizzle to your summer sauce.
Empress and @cooking_with_wine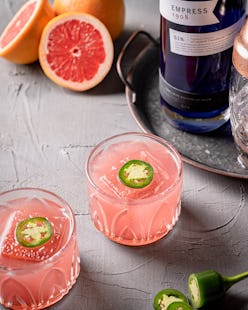 As the temperature rises, there's nothing more refreshing than cooling down with a beverage that packs a punch. Behold, the hottest sip of the summer season, the spicy cocktail. Embrace this scorching beverage trend that adds a fiery twist to traditional drinks with vibrant flavors of chilies, peppers, and exotic spices.
According to Joe Feerrar, co-founder of Bald Birds Brewing, "More than 75% of Americans enjoy spicy foods according to recent studies — it only makes sense that it would also reflect in the beverage industry." Another expert to guide us on this spicy symphony is Wyn Vida. She's a Dulce Vida brand ambassador who currently serves as beverage director at Toshokan and The Cathedral in Austin, Texas. She's noticed an increase in customers ordering "hella spicy" Bloody Marias (a Bloody Mary made with tequila instead of vodka) during brunch. "I love making them with an infused spirit like Dulce Vida Lime Tequila, or if you're feeling brave, Dulce Vida Pineapple Jalapeño Tequila. Knock out two birds with one pour," she shares. "The other cocktail I love making is a Spicy Dirty Martini. I infuse a gin like Empress 1908 Gin with Serranos for about 24 hours, throw some olive juice in, shake it up, and double strain it into a coupe."
When getting into the nitty gritty of spicy cocktails it's important to understand the distinction between heat and spice. "Spice can be a riff on a Manhattan using an allspice dram or an Old Fashioned using a chai tea demerara. Spicy refers to heat, the need to drink water after a sip or bite," she explains.
As for the origin of the spicy cocktail trend, there's no question in Vida's mind that it was sparked by the widespread introduction of the spicy margarita. "It is a perfect mesh of refreshing, tart, and a little sweet," she says. She also believes that this "trend" is here to stay. "It's becoming more of a staple on cocktail menus," she adds. Feerrar agrees on its staying power, saying, "I think we are just starting to scratch the surface with the spicy cocktail trend."
Rules Of Thumb
When it comes to mastering the art of fiery cocktails at home, there are a few things to consider. First up, flavor pairings. Vida has an easy mantra to aid novice mixologists and their tastebuds. "I'd say what grows together goes together. If you found the peppers you're using from the same place pineapples grow, go with that. Sweetness does help to counteract the spice."
Next is the method you select to add spice to your spirit. There are two choices. The first is infusing the spirit, a technique where you add the peppers or spices into the liquor, let it steep for a bit, then remove the ingredient(s) but allow their flavor and spice remain. The second is to add the spicy ingredient directly into the shaker (for shaking, mixing, or muddling) with the rest of the cocktail ingredients. While Vida says it's a "personal preference," she's loyal to one method. "I always encourage people to infuse the spirit instead of just throwing peppers into a shaker," she says. "The flavor really shines through and intensifies."
Aside from creating the best-tasting cocktail, Vida also points out that infusion also has a sustainable benefit. "It prevents waste as the infused spirit is shelf stable," she says. "Lastly, you're avoiding the random overwhelming hits of spice from the seeds left in a cocktail after being shaken with peppers. You've just elevated your cocktail from amateur hour to a well-balanced drink that you can serve your friends with pride."
For the at-home mixologist who decides to proceed with infusion, Vida advises that the "less is always more to start," approach, and adds "You can always add more peppers in and infuse your spirit for longer," if you want to intensify the flavor. When it comes to choosing which type of spicy pepper to use, it's up to you, but there are a few things to keep in mind. Take the natural heat level of the pepper into consideration. Jalapeño and serrano tend to be on the lower end of the heat spectrum, while habanero and ghost peppers are for heat extremists. Another tip is to remove the seeds of the pepper before adding it to your cocktail to lessen the heat.
"I would go with a pepper you already know you like to eat and a spirit you love to drink," Vida recommends. But for those who like a more concrete guide to adding heat and spice to specific drinks, she's got you covered. "I will say, with whiskey I prefer to use a cordial, kosho (Japanese black pepper) bitters, or a liqueur to add heat. But vodka, gin, tequila, rum — go crazy with the peppers."
Vida also suggests keeping track of your infusions to determine what you did and didn't like to ultimately create the perfect concoction. "Split the spirit up into containers and write what time you started and ended each infusion and what was in it," she advises. Lastly, she explains how to get an extra burst of spice into your summer beverage. "Another pro tip would be to always have Chamoy [sauce] and Tajin on hand for a quick spicy rim if you want another pop of flavor."
If you're ready to ignite your tastebuds and add some sizzle to your summer sips, check out some spicy cocktail recipes ahead.
Sweet Heat
Vida is fond of this easy two-step drink because it "packs the punch of a craft cocktail" without needing the skills of a master mixologist.
Ingredients
2 oz Dulce Vida Pineapple Jalapeño Tequila
4 oz sparkling water
Garnishes: Pineapple wedge
Instructions
Pour tequila into a Collins glass, top with ice, and then fill to the brim with sparkling water. Place the pineapple wedge on the side of the glass.
Spicy Greyhound
This update on a traditional brings the spice and the heat with several different sources. Your drink will be as hot as the summer temperatures.
Ingredients
2 oz Empress 1908 Gin
1 oz grapefruit juice
1 oz lemon juice
2 tsp half-sweet simple syrup (2:1)
1/8 tsp cinnamon
1/8 tsp cayenne pepper
1 thinly sliced jalapeño
Instructions
Add all ingredients into a shaker with ice. (Option to shake with a few jalapeño slices for extra heat.) Fine strain into a lowball glass with a large-format ice cube. Garnish with a thin slice of jalapeño and serve.
Mi Amor Margarita
Mix up a different kind of margarita this summer and serve it with extra spice. This whiskey version of the classic Mexican cocktail keeps some of its original heritage and heat with a Tajin rim and jalapeño.
Ingredients
2 parts The Glenlivet Caribbean Reserve
1 part lime juice
1/4 part Italicus
1/2 part agave syrup
Tajin
Jalapeño
Instructions
Combine all ingredients in a shaker with ice. Pour and top with fresh ice, a Tajin rim, and as many jalapeños as you like. NOTE: If batching, stir ingredients and pour them into a bottle. Refrigerate for 48 hours or freeze for up to a month.
Mango Chile Mojito
The mango chile twist on a traditional mojito brings this beverage from formidable to Fuego!
Ingredients
1 1/2 oz BACARDÍ Mango Chile
3/4 oz lime juice
1/5 oz simple syrup
1 1/2 oz soda water
8-10 mint leaves
Directions
Pour lime juice & simple syrup into a tall glass. Add mint and use a bar spoon or muddler to press the mint leaves. Pour in crushed ice, BACARDÍ Mango Chile, and stir. Top with soda water and mint leaves for garnish.
El Cantinero
Created by Keith Larry, the beverage director at the infamous Little Rascal in Brooklyn, NY, this drink is so scorching with spice, it may add some hair to your chest!
Ingredients
2 oz Tromba Blanco or Pierde Almas Mezcal
1 oz grapefruit cordial*
3/4 oz fresh lime
Dash of ghost pepper tincture
Grated pink peppercorn
A few sprigs of charred rosemary
*Grapefruit Cordial Ingredients
10 oz grapefruit juice
10 oz sugar
3 oz lime
3 oz Aperol
One tablespoon of white peppercorn, lightly ground
20-30 scrapes of star anise on a microplane
*Grapefruit Cordial Directions
Add all ingredients into a saucepan, then lightly stir the mixture over medium heat until simmering and all sugar is dissolved. Allow the mixture to cool, then store it in an airtight container.
Instructions
Add all ingredients to a shaker tin and shake. Pour into a rocks glass and serve on ice. Top with grated pink peppercorn and charred rosemary.
St. George Spirits Green Chile Gimlet
A regular gimlet gets leveled up with green chile vodka to create a drink that brings the heat and will cool you down at the same time.
Ingredients
1 1/2 oz St. George Green Chile Vodka
1/2 oz simple syrup
1/2 oz fresh lime
Instructions
Shake all ingredients vigorously with ice, then strain into a chilled cocktail glass. Garnish with a lime twist.