Santorini Is The Early Fall Vacation You Didn't Know You Needed
BriBar/E+/Getty Images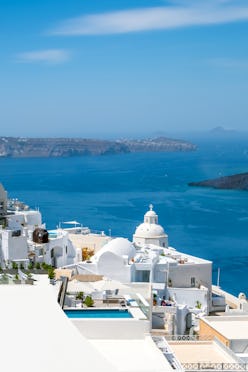 Does it seem like your Instagram feed has been particularly overloaded with Greek vacation reels over the past week or so? That's because the country, and its surrounding islands — particularly Santorini — is especially heavenly in the early weeks of fall. Yes, from early September into mid-to-late October travelers can truly enjoy the warm temps (sans intense heat), thinning crowds, typically lower airfare, and all the dramatic beauty of the Balkan region. I learned firsthand the magic of this timing on a recent trip to the aforementioned Santorini, where I enjoyed the most peaceful, luxurious getaway ever.
"September and October are great times to travel to Santorini," says Christos Seizis, general manager of Santo Pure Oia Suites & Villas in Santorini. "During these months, the weather is still warm and sunny but cools down a little. Additionally, the 'Meltemi' winds of August usually decrease a bit which makes outdoor activities and exploring more comfortable. The island isn't as busy during this season and tends to slow down which often offers travelers even more relaxation, peacefulness, and seclusion."
Relaxation indeed. If you, like me, are already mourning the end of summer, wipe those tears. A last-minute getaway to Santorini is just what you need to either keep the vacay vibes going a bit longer or an early fall reset.
Where To Stay
Santorini is chock-full of luxe properties in which to hang your hat, but my pick for the most picturesque is certainly the Santo Pure, where I had the privilege of staying for four blissful days. Nestled in the heart of Oia and overlooking the Aegean sea, the resort consists of a cluster of suites and villas, each one including either a hot tub or infinity pool, not to mention its own unique breathtaking view of the sea or one of the property's well-manicured gardens.
Designed for a "harmonious" and rejuvenating experience, the property prioritizes slow-living and a laid-back pace with wellness activities at the forefront as well as sustainable principles and practices that keep the resort connected to nature. The aforementioned gardens, for instance, are sprinkled throughout, growing herbs, fruits, and vegetables that are used in the hotel's three eateries.
One of the biggest bonuses of the Santo Pure, however, is its close proximity to the town center, five minutes by foot to be exact. For that famous Santorini sunrise or sunset (both are said to be some of the most beautiful in the world) experience, simply walk at dawn or dusk up the cobblestones onto Oia's main pathway and allow it to lead you to the dome-lined cliffs that deliver the Instagram moment of dreams. After you get your shot, walk inward to marketplace where you can load up on treats like kourabiedes and baklava and icy whipped Freddo cappuccinos.
Where To Eat & Drink
You can't visit an island like Santorini and not sample the local selection of fresh seafood. One of the best restaurants to do just that (and enjoy a stunning view while you're at it) is the laidback, waterfront eatery and local treasure Ammoudi Fish Tavern. In addition to traditional dishes like Greek salad and grilled halloumi cheese, ocean-sourced plates like prawns saganaki and fresh red snapper have made this place an institution. (Pasta lovers, I highly recommend the linguine seafood dish — it's delectable.) In the south Santorini town of Kamari, Almira is loved for its fresh take on local cuisine like musaka and feta cheese drizzled with honey.
For fine dining, try Fly Away Creative Restaurant & Bar in Imerovigli, which boasts chic, poolside seating and craft cocktails. Dishes like the smoked eel-infused risotto, braised beef, and prawn tagliolini have visitors raving about the hotspot. Santo Pure's gastronomy eatery, Alios Ilios (which was honored with a "Best Greek Cuisine Award" by Alpha Guide in 2019, 2021, and 2022), offers elevated and unique tasting menus of seven, nine, or 11 courses, all paired with local wines. Guests can feast on everything from classic Greek dolmas and tartaleta to more innovative options like fogoteli with Greek caviar and ravioli with eggplant, eel, and Greek truffles.
What To Do
Because of its picturesque views and healing waters, Santorini is widely known as a locale to truly unplug, recharge, and/or spend quality time with a loved one. That said, there's still plenty to do, if hanging by a pool or beach all day is not your style. As mentioned before, catching a sunrise and sunset are truly crucial in a locale such as this, so an early morning or late afternoon hike on the popular Fira-Oia trail, which is about 6.5 miles total and hugs the coastline for a perfect landscape shot, is a great way to do some sightseeing while also getting some good cardio in.
If you have your sea legs, book a catamaran tour around Santorini and be sure to pay a visit to the hot springs for a quick, detoxifying dip. Many charter companies offer fresh BBQ meals and drinks on board (grilled right in front of you, no less), so you can feast while you enjoy the ocean's delights.
Experiences of the spa variety are always a good idea on any vacation, and Santo Pure's wellness facility is a top option if you find yourself in Oia for the day. In addition to a full-service fitness center (complete with dimly lit indoor pool), the resort includes the luxe Anassa Spa. Designed as a "healing sanctuary," the facility aims to serve the mind, body, and soul with its menu, which includes everything from black lava facials and face yoga to Cretan massages and sleep-inducing body treatments.
Also, wine-lovers can enjoy the various wineries dotted across the island (there are over 20!). Some top picks include Estate Argyros in Episkopi Gonias, which is one of the oldest as it's been making its dessert varieties for over a century. You can also go modern and swing by Vassaltis Vineyards in Vourvoulos, one of the newest establishments to pop up, although the family at the helm has been in the grape growing business for generations. The winery is best known for its Pet Nat and Nassitis varieties, so be sure to give those a sip while you're there.
If your summer wanderlust has been reignited by this Santorini guide, by all means, act now. A quick getaway to this serene and stunning part of the world could be the perfect recharge needed to start fall off on the right foot. And, let's be honest, Greece is and always will be a good idea.