The 3 Biggest Rug Trends Of The Year Will Continue Into 2024
Get a jumpstart on that new year refresh.
@thecitizenry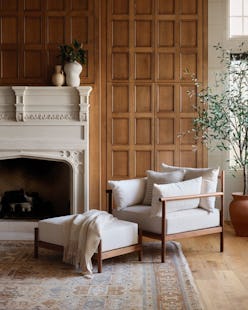 We may receive a portion of sales if you purchase a product through a link in this article.
Adding a sense of personality to one's abode, rugs are an effortless and simple way to elevate a space. Whether your taste is art deco, maximalist, midcentury, or minimalist, there's a style to fit any aesthetic. And while there's a variety of classic rug options that can stand the test of time, like everything else, there's always a few standout trends every year that seem to take over homes (and social feeds). Think the colorful checkerboard patterns that dominated maximalist homes back in 2021, or the natural fiber finishes that have been all the rage since 2022.
"A rug that is trend-worthy often mimics and complements decor style elements that are of-the-moment, like natural fibre jute and sisal rugs in organic modern spaces, for example," says Alexandra Gater, a stylist, home decor expert, and author of Own Your Space. "Vintage [ones] are so popular right now and are timeless piece that never go out of style."
Though rugs are often placed on the back burner when it comes to overall space design, they are actually crucial in tying a room together. By tapping into interesting patterns, textures, and shaping, these designs can add a ton of appeal and interest to your home, especially if think outside the box. "We've seen a lot of rule-breaking," says Gater, in regards to atypical rug styling. "Don't be afraid to incorporate traditional rugs into mid-century-modern rooms, or boho rugs into contemporary spaces — it may be just what the room needs to feel complete."
Ahead, our experts discuss the top three rug trends making waves at the moment — and that will likely continue into 2024 — so you can get a head start on that new year refresh.
Vintage Styles
"We've seen a continuation of a trend that's been around for a while now: tons of vintage [and vintage-inspired] rugs, particularly Persian designs, are still popping up all over our social media," says Gater. "These rugs often lean warmer in color with reds, oranges, and yellows as primary shades. They are beautiful pieces that provide the perfect contrast to a neutral-leaning room, or a cherry on top of a more colorful design."
Irregular Shapes & Sizes
When it comes to tapping into irregular shaped rugs, these options add the perfect dose of playfulness for free-spirited or maximalist living spaces. "Some cool art deco-shaped rugs, the cowhide [style] made with new materials, people love how irregular shapes represent organic nature," says Crystal Bright, the lead designer of interior design service 3D Bright Designs.
When shopping for a shaped rug, the interior expert suggests opting for a silhouette that reflects those in your home. "If your space is art deco with geometric shapes, I would recommend getting an oversized pattern of a shape that reoccurs in the [home]," she says. "For example if you have circular elements all around the room then you should get a rug with a large round pattern."
Neutral Tones
Although vibrant and playful rugs add a bit of multi-layered dimension, they're not for everyone. Luckily, softer materials and shades are also going strong for the year. "I'm seeing a lot of brown, creams, tans, and ivories used a lot lately, especially with jute braided natural fiber rugs," says Jeendanie Lorthe, an interior design expert and founder of By Danie Interiors. "The soft color palette trend that's been around lately not surprisingly relies on these colors." The beauty of this trend is that it lends itself to a variety of textures that can easily be layered. "Pairing a jute rug with a softer top rug made of cotton, wool, or flat weave will make for easier cleaning while also providing more dimension to your room," adds Lorthe.