An Expert's Guide To Finding The Perfect Rug For Your Home
@revival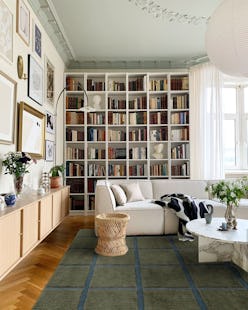 We may receive a portion of sales if you purchase a product through a link in this article.
While much focus is often on walls and furniture, rugs have played a crucial role in the decor and aesthetic of a space for centuries. They can instantly elevate or warm up a room, adding the perfect pop of color or texture. "Rugs are an essential element in interior decorating, holding immense importance in tying together a well-designed space," says Loi Doan, notable interior designer, home content creator, and YouTuber. "Selecting the right size rug for a room is crucial to creating a harmonious environment. From classic and timeless to eclectic and bohemian, the rug's style should align with the desired aesthetic. In summary, rugs are a vital design element that significantly contributes to the overall look and feel of a room."
That said, whether it be an area rug for the living room or an accent piece for the bedroom or dining room, searching for the perfect rug for your abode is no easy feat. And with so many online markets, home decor outlets, and local rug wholesalers out there, shopping for the perfect one is not always an easy task. However, with the right direction surrounding your home's aesthetic, color scheme, and dimensions, finding the rug of your dreams can actually be quite simple.
"Sometimes people get caught up in trying to make every item in their space match and that is definitely where they go wrong and get confused," says Dani Klaric, a notable interior decorator, creative director, and home decor content creator. Choosing a unifying color palette will help you stay on track while exploring different patterns and styles for your space. Don't be afraid to mix and match patterns, colors, and textures."
There's much to know when adding the right rug to your space, so TZR tapped experts for some key tips to make your journey an easier one.
Mix & Match
Mixing and matching rugs in your space is the perfect way to add more flamboyant vibes to your surroundings while bringing a sense of uniqueness. "If your primary furniture, such as a sofa, is modern, consider getting a more funky and different style [floor covering] like a Moroccan rug," says Klaric. "And if your sofa is more on the vintage side, maybe think about mixing up the style with a contemporary rug."
Consider Fibers & Textures
Though it may not always be the first thought in our minds when searching for a new rug, it's vital to pay attention to a rug's fiber and texture. Paying attention to these qualities can also help to ensure long-lasting life, therefore putting your rug to good use. "Use the right rug fiber for the right room," says Madeline Ronzoni, home content creator, influencer, and founder of online boutique Happy Rugs. "If you are looking for a high-quality rug that will last you years with the right maintenance, look no further than New Zealand wool. It is very resilient and durable, perfect for heavy foot traffic but still soft enough where it feels plush and cushiony when stepped on."
She continues, explaining that rugs made with silk, viscose, or synthetic fibers are not as durable when compared to wool and may not last a lifetime of foot traffic. The same goes with cotton fiber rugs when it is tufted or long and shaggy; it is best to go with tight weave/hand woven cotton rugs for heavy foot traffic areas such as the living room to ensure longevity.
When In Doubt, Keep The Color Palette Simple
For minimalists dabbling in color, or even spaces with a ton of shades at play, sticking to one or two colors in a rug could be the way to go to keep the space from looking too chaotic. "I have a LOT going on in the spaces I design, and I like to keep it from being too distracting by sticking with a simple rug of just one or two colors normally," says Tay BeepBoop, home decor content creator, and influencer. "That way all of the rest of the items aren't overwhelmed in the space. It doesn't matter what your home aesthetic is because, if you stick with a simple rug, then it can go with anything."
Ensure It Complements Your Decor
Even when mixing and matching, the rug should feel aligned with the general vibe of your space. "The style of the rug should complement the overall decor," says Doan. "It can either blend in with the existing color scheme, creating a cohesive look or stand out as a bold statement piece."
The Expert's Personal Favorites
Hand-selected from their homes, ahead, are a few of our expert's favorite rugs for the season. From vibrant and bold to calm and cozy, these rugs are sure to transform your home in minutes.