Japanese Liquors Aren't Just A Splashy Cocktail Trend
They're seeped in history.
Courtesy of iichiko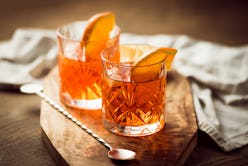 When it comes to liquor, Japan may not be the first country that comes to mind. But the country's spirits' rising popularity throughout the world begs to differ. Thanks to beverages like Japanese whiskey, sake, shochu, and everything in between, the string of islands' boozy beverages are going global. In 2021, Japanese liquor exports were up 60% from the previous year and went even higher in 2022. The U.S. in particular, has seemingly taken interest in the latest drink craze.
"Japanese spirits offer a unique tasting experience, reflective of Japan's expertise in craftsmanship and passion for excellence," says Taki Nakatani, North America brand manager of House of Suntory Brands. Besides the unique quality and taste, he also believes that Americans' intrigue with Japanese culture and its influence on fashion, entertainment, food, and drink, plays a part in this surge of popularity. Add to that the increase of the AAPI community. "The total number of Japanese restaurants in the US has increased by 20% since 2017. [Also,] the Asian American population in the US grew 81% between 2000 and 2019, from 10.5MM to 18.9MM, and has become the fastest-growing ethnic group in the U.S."
Nakatani isn't alone in that assessment. Tetsuro Miyazaki, general manager of US operations for iichiko Shochu, also believes the "Japanese food boom" paved the way for American consumers to "embrace" the country's spirits (particularly sake) in a way they hadn't been before.
"After the sake boom, the high quality of Japanese whiskey was recognized in the distilled spirits industry," Miyazaki says, "and since around 2015, the import volume of Japanese whiskey has increased rapidly and continues to grow." According to Miyazaki, this also paved the way for Shochu, a traditional Japanese spirit with a 500-year history, to begin being accepted by the U.S. bar industry in the last few years.
To be clear, these liquors are more than just drinks to sip on socially — they offer a glimpse into Japan's rich history, traditions, and way of life. So, grab your favorite cocktail glass and get ready to explore the world of Japanese spirits like a true connoisseur.
Sake
Also known as Japanese rice wine, sake is brewed using a fermentation process that involves mixing cooked rice, water, yeast, and Koji (a type of mold commonly used in Japanese cuisine). The mixture is left to ferment for several weeks, during which time the starch in the rice is converted into sugar, which is then converted into alcohol. Sake can range from sweet and fruity to dry and robust and is served chilled or warmed. "Sake taste changes depending on what temperature it is served at," Hitoshi Utsunomiya, director of Japan Sake and Shochu Makers Association (JSS) says. "Heat affects the perception of sweetness and umami but not acidity." He adds, "Sake is rich in amino acids and peptides," which produce its umami flavor.
Shochu
Shochu, also made from rice, is distilled rather than brewed. According to Miyazaki, it is, "mainly made in the southern part of Japan, on Kyushu Island" from a variety of ingredients, including rice, barley, sweet potatoes, and buckwheat. Koji, (the same mold used in sake) is also added to the fermentation process. "Koji is very important for the flavor profile," Miyazaki shares. This essential ingredient brings the umami flavor to the spirit and its addition to the fermentation process is what gives Japanese shochu, "a very smooth aftertaste." After the fermentation process the alcohol, "is distilled only once with a single pot still to preserve its original flavor of ingredients," he says. Because of the single distillation process, Miyazaki points out, "The flavor of the raw materials is preserved to the highest degree in shochu."
Japanese Whiskey
Move over Scotland, there's a new whiskey king in town. Nakatani says that the Japanese version of the spirit was, "initially inspired by the techniques used in Scotch whisky making," but has evolved into its own unique spirit. "It is made most commonly from malted barley, distilled in pot stills, and aged in wood barrels," he shares, and the wood barrels are the secret sauce of this spirit. While Spanish oak and American oak are also used, Nakatani says the wood from Mizunara, "A rare tree that is native to Japan" is what adds "a unique spicy and citrus character to the whisky." He also encourages those who may not like the flavors of traditional whiskey to try the Japanese version. "Depending on the bottle and your preferences," he says, "you can find anything from light peat and smokiness, bright citrus, fruit, spiciness, malt, caramel, vanilla, or honey."
Rules of Thumb
When selecting a bottle of a Japanese spirit, there are a few things to keep in mind to ensure that you are getting the best possible cocktail experience.
When it comes to Japanese whiskey, Nakatani recommends, "Look for a reputable brand like the House of Suntory." For highball cocktails, he says Toki blended whisky is perfect because of its light and perfectly balanced citrus fruit and herbal flavors. Those looking for a more "profound [whiskey] experience" should try the Yamazaki Single Malt.
In terms of assembly, Nakatani instructs, "Most Japanese whisky cocktails will be best enjoyed stirred, not shaken." He also wants customers to be mindful of an often overlooked, yet essential cocktail ingredient, the ice. "We are very particular about having the right ice — in fact, ice carving is seen as an art form in Japan. Use filtered or purified water and a precise ice mold to make Japanese style-ice at home."
If you're in the market for shochu, Miyazaki wants to make sure customers differentiate between Korean soju and Japanese shochu. They are often confused with each other because their names sound similar, but the spirits are nothing alike. To easily tell the spirits apart, Miyazaki recommends looking at the label. "Japanese shochu is required to list its ingredients," he says, "but some Korean Soju has no ingredients listed." In terms of flavor profiles to think about when creating a shochu cocktail at home, Miyazaki advises, "iichiko pairs well with flavors such as lemon, yuzu, and shiso."
Those looking to explore the world of sake have an extra resource at their fingertips. Utsunomiya directs customers to the JSS Global Sake Information Shops, where quality sake shops are listed by location all over the world. His next suggestion is to pay attention to the "special designation of sake" on the bottle because it "shows the style." He recommends the Ginjo style for white wine fans.
If you're ready to start your journey with Japanese liquor, ahead, handpicked cocktail recipes that will help you hit the ground running.
TOKI ® Sour
Add a Japanese twist to the classic whiskey sour and let the flavor overwhelm you, in the best way possible.
Ingredients
2 parts Suntory TOKI Whiskey
1 part lemon juice
½ part elderflower syrup
Mint sprig
Method
Add all the ingredients to a shaker filled with ice and shake. Strain into a coupe glass and garnish with a mint sprig.
Blackberry Chu Hai
This light, sweet, shochu cocktail can be enjoyed day or night.
Ingredients
Method
Muddle blackberries in a glass and add ice. Incorporate iichiko Silhouette and top with club soda. Give a quick stir and garnish with blackberries.
Ocha Kiwi Highball
Forget sake bombs. This kiwi cocktail brings sophistication and a little sweetness to sake. No sushi required.
Ingredients
1.5 oz WESAKE
1 oz Genmaicha Infused Vodka
1.5 oz kiwi shrub
.5 oz lime juice
2 oz club soda
Method
Add all ingredients except club soda to a shaker tin filled with ice. Shake vigorously for 10 seconds. Fine strain into a Collins glass filled with ice Top with club soda. Garnish with a fresh kiwi dollar.
Fuji Sparkling
A simple but tasty cocktail, this creation is perfect for both Japanese whiskey beginners and enthusiasts.
Ingredients
1.5 oz Fuji Single Grain Japanese Whiskey
club soda
Yuzu or lemon twist for garnish
Method
Pour the whiskey into a Champagne glass. Top with the desired amount of club soda. Garnish with yuzu or lemon twist.
Koji Old Fashioned
There's nothing old-fashioned about swapping whiskey for shochu in this drink. This shochu adds the aromas of honeydew, and white grape, as well as hints of soy, white pepper, and rich barley notes.
Ingredients
2 oz iichiko Saiten
0.25 oz simple syrup
2-3 dashes angostura bitters
Orange slice
Method
Mix all ingredients into a rocks glass with ice. Stir, then garnish with an orange slice.
AWAYUKI Tom Collins
Those who want to experiment with Japanese spirits can go a step further with this Strawberry Gin. The flavored spirit puts a perfect Japanese spin on the classic that makes it even better than the original.
Ingredients
1.5 oz AWAYUKI Japanese Strawberry Gin
1 oz freshly squeezed lemon juice
.5 oz simple syrup
2 oz club soda
Method
Add Awayuki Japanese Strawberry Gin, simple syrup, and lemon juice to a Collins glass. Fill with ice. Top with club soda and stir.