These Off-The-Grid Luxury Rentals In Greece Should Be Your Next Getaway
@thethinkingtraveller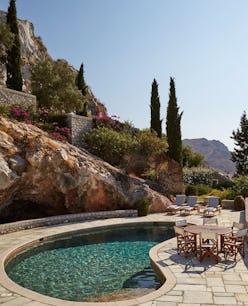 With picture-perfect landscapes, idyllic islands, and a bevy of historic architecture, it's no surprise that Greece is a travel hotspot. And honestly, what could be better than sitting on a deserted beach, underneath the warm sun with a Greek salad in hand? During the fall, the weather in Greece is sunny and beautiful. However, the crowds have departed and it's easier to navigate, which is why it's the ideal time to plan a visit.
While some may choose to spend their time enjoying popular islands like Mykonos or Santorini, there are a whole slew of cozy, quiet islands and under-the-radar cities that should be visited, including Milos and Ithaca. Some might argue that once you visit one (or a few), you'll find yourself ready to return year after year. Thankfully, nowadays, the majority of these islands remain open year-round so these rentals are a quintessential escape with off-season rates.
From a Chania hideaway with panoramic views overlooking an olive grove to a private oasis with breathtaking views of secluded beaches, these rentals are sure to make your Greek getaway memorable. Here are a few retreats to add to your bucket list for your next visit to one of these dreamy Greek destinations.
With moon-like landscapes, photogenic colorful fishermen's huts, and some of the most breathtaking beaches you've ever laid your eyes on, it's no surprise that Milos is quickly rising in popularity. While most flock to Kilma, the fishing village of Agios Konstantinos typically flies under the radar, which is why this seaside Airbnb is precisely where you want to be. With a location near the island's natural wonders, including Sarakiniko Beach, the picturesque villages of Pollonia and Tripiti, and the Paprfragas Caves, it's a fantastic place to take it all in.
This secluded villa allows guests to immerse themselves in the untouched nearby beaches of Zorgos and Peza. Nestled in the serene northern part of the Greek island, Andros, it's easy to properly recharge with the panoramic views of the mountains, ravine, and nearby sea from a comfortable spot on the veranda. During your stay, take in the candy-colored sunsets from the pool, gather fresh vegetables from the onsite garden, or wander along the nearby beautiful walking paths. When you want to venture out, take a short drive to the Gavrio Port where you can explore the seaside village or dine in one of the many restaurant options.
Hydra's gorgeous pastel-hued seaside port, marble-lined alleys, and car-free streets are just a few of the draws of this laid-back Greek island. Perched within the mountains, Pherenike offers visitors sweeping panoramic views of the surrounding sea and nature from every angle. The stone-built mansion has complete seclusion, yet is just a stroll away from the harbor's tavernas, bars, cafes, and restaurants.
For a more affordable option in Hydra, post up at the Pinotsi House. It's just a ten-minute drive from the port, thanks to its location in the neighborhood of Kiafa. Made with traditional architectural techniques, its stone interior makes it feel like a medieval castle. However, arguably the best part of the property is the rooftop terrace where you can enjoy a panoramic view of the island. Plus, it has epic hillside views and it's one of the best spots for taking in the magical Greek sunsets.
Overlooking rolling hills, olive groves, and the sparkling Cretan sea, Villa Filira looks like it came out of a movie. Spread over three floors, it has space for six guests and makes a lovely getaway for any occasion. With an outdoor terrace, a tranquil pool with views from every angle, and three bedrooms with private verandas, it's easy to spend a day or week immersing yourself in this stunning property. During your visit, make sure to cook up a Mediterranean lunch using the traditional wood oven in the kitchen before evening cocktails in one of the many outdoor spaces.
Nestled in the verdant hills above the town of Gaios, Meraki feels like something out of a dream. The house itself is located on the Greek island of Paxos, which boasts some of the most beautiful beaches of anywhere in the Mediterranean. The best part? It's only accessible by ferry and has managed to remain relatively untouched by mass tourism. With fragrant olive trees, shrubs, and colorful flowers all around the outdoor space, it feels like a true escape even though you're just a short walk away from a nearby taverna. The house itself has a gorgeous stone facade that highlights the expansive outdoor lounging area with a beautiful pool.
The peaceful, low-key island of Ithaca is often overlooked by many who book a Grecian getaway. But with its lush landscapes, pristine shores, and frozen-in-time villages, it shouldn't be overlooked, and this Ionian house is precisely where you should stay. The modern townhouse in Agioi Saranta is soothing from the second you walk in with cozy, muted earth tones, hillside terraces, and seaside views.
As one of the largest Ionian islands, it's easy to get lost in the mountainous landscape of Kefalonia. Located just a short drive from Argostoli, the buzzy capital of the island, this contemporary villa offers spectacular sunset views of the Ionian Sea and the nearby Venetian St. George's Castle. During your stay, take advantage of the infinity pool, have your coffee (or afternoon cocktail) on the balcony, or read a book in one of the many comfortable outdoor lounge spaces.
The Cycladic island of Kea is not well known to most non-Greeks, so it's a true hidden gem. However, it features breathtaking scenery, including rugged landscapes and crystal-clear blue waters, and is worth a visit. The best spot to take in the island? This 19th-century farmhouse is set on a rural plot within a protected wild habitat. Despite its history, this two-bedroom house has been updated with modern amenities—except for television or Wi-Fi—and makes an incredible spot for a digital detox. Nearby, there's an ancient stone footpath leading to the Temple of Karthea, which is worth taking a venture to.
Housed within a four-acre private garden, this hideaway allows you to decompress from everyday stressors with the views of a surrounding pine forest. This private room within a villa comes with its own bathroom, while the rest of the space is shared with the family who owns the property. It's located a short distance from the city of Corfu and the famous St Gordios beach, which is one of its biggest draws. However, according to Airbnb reviews, the experience feels super authentic due to the hospitality of the lovely Greek hosts who supposedly make a fantastic breakfast each morning.