How To Explore Peru & Cruise Through The Amazon Rainforest In Style
Rediscover the majestic country.
@peru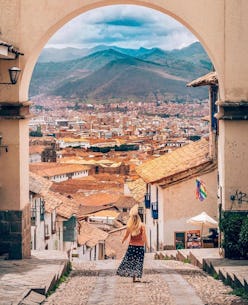 Wild, expansive, and short on infrastructure, the Amazon has never been a simple destination for travelers — never mind those who require Egyptian cotton sheets. Now the world's largest tropical rainforest is more accessible than ever before, thanks to a series of exclusive, small-ship river cruises that don't trade life's comforts for life-changing adventure. One of the newest and most exquisite: Aqua Expeditions' Aqua Nera, a 20-suite super yacht that features an infinity pool, massage therapist, and cuisine by Pedro Miguel Schiaffino, an award-winning Peruvian chef who is celebrated for introducing native Amazonian produce to Lima's top restaurants.
Part of a new Abercrombie & Kent journey, Peru: Machu Picchu & the Amazon that launches this June, it's not the only part of this diverse, fascinating county worth exploring. This past fall, I had the opportunity to preview A&K's new itinerary, which also takes guests to Peru's capital and the Andean highlands, home to modern world wonder and Incan citadel Machu Picchu. The trip was full of expert insights, including a private lecture from the head of Cusco's Museo Inka, intimate cultural excursions, and lavish touches — no, I never got tired of being welcomed at each hotel with pisco sours. Here's what it was like traveling Peru from coast to jungle, and the most unique experiences along the way.
Eat Like Royalty In Lima
No visit to Peru is complete without a few days in Lima, beloved by in-the-know food-lovers for its explosive culinary scene. Over the last 20 years, led by star chef Gastón Acurio, the country has finally gotten credit for its killer street food, fresh ceviche, ultra-diverse produce, and best-in-class desserts and made a name for itself with top-ranked restaurants like Central and Maido. (Good luck getting a reservation to either, by the way.)
I kicked off my first day with a gourmet biking tour with one of Abercrombie & Kent's local guides, who brought me to ChocoMuseo — Peru has some of the finest single-origin chocolate bars in the world — and a produce market. I could have spent hours browsing the packed alleyways, learning the names of fruits and vegetables, including the passion-fruit-like granadilla, tree tomatoes, and camu camu, which contains the highest concentration of vitamin C of any food source. Another favorite lúcuma, sometimes called "the last gold of the Incas," is buttery perfection when served as ice cream.
Meals didn't disappoint either. At Kjolle, the younger sister to Central, Amazonian ingredients are elegantly woven into contemporary dishes, such as braised beef cheek with mochete chili and coffee sauce and a creamy puree of burnt vegetables and huamantanga (just one of Peru's 4,000-plus potato varieties). For lunch at Pescados Capitales, I tried grilled paiche — a living fossil and the second largest freshwater fish in the world — yet somehow saved room for picarones, deep fried sweet potato donuts.
Walk In The Footsteps Of The Incas
Many travelers to Peru immediately head to the Andes, where the Incas emerged from the highlands and built their famous empire in the early 13th century. I started my five days in the area in the Sacred Valley, where the Quechua-speaking descendants of the Incas live in remote villages. There, I joined a local shaman in a private, traditional offering to Mother Earth (Pachamama), one of Peru's most sacred rituals, and met with locals from the village of Ccorca (Village of Flowers) to take a short two-hour hike together (complete with music and llamas!) and learn more about their culture.
As part of Abercrombie & Kent professional training program to empower more women and change the perception of those who work as porters on the Inca Trail, some of the women we met the day before met up with us at Kilometer 104 to begin the notoriously difficult six- to eight- hour trek to the Sun Gate. It's all worth it when you look down at the "lost city" of Machu Picchu though, shrouded in mist just like it was on the cover of National Geographic back in 1913.
After one of the best massages and soundest sleeps of my life, I rode the train back to Cusco, nicknamed "the navel of the world" for its prominence as the former capital of the Incan Empire. There I checked into Monasterio, a Belmond Hotel, Cusco, a former Inca palace and monastery that not only hosts one of Cusco's top collections of 18th-century religious art; it's also home to a full-on Baroque chapel. And a bath butler. Truth be told: It's exactly what you'll need after a day spent hiking a 500-year-old trail.
Welcome To The Jungle
My three-day journey on Aqua Nera began in Nauta, birthplace of the Amazon River and the launch pad for exploring the Pacaya-Samiria National Reserve, a renowned biodiversity hotspot that's twice the size of Yellowstone. A sleek river cruiser, our ship felt more like a five-star hotel than a mere boat, with a billiards room, spacious sun deck, and infinity plunge pool boasting a never-ending view of the silent water surrounding us. My room, tastefully decked out in dark wood paneling and floor-to-ceiling windows, was the perfect place to watch the world float by. Such luxury almost felt out of place in a world that's better known as a remote haven for wildlife. Yet there's no better way to see the Peruvian Amazon.
Each day I woke up wondering what adventure the jungle would bring to us. We began the morning in the second largest protected natural area in the entire Amazon with Aqua Expeditions' naturalists, setting out on skiffs in search of rare animals like acrobatic spider monkeys, bright-eyed caimans, red macaws, big-mouthed potoo, and endangered pink river dolphins (yes, pink). Guided by a local, we also had the opportunity to step into the Mirrored Jungle itself to see anacondas, giant Amazonian lily pads, and so-cute-they-can't-be-real three-toed sloths.
Courtesy of Abercrombie & Kent
Many of the most special moments came when we least expected them. Emerging from the rainforest, we were met by a floating bar with Aqua Nera's bartender Robinson — easily the most popular person on the trip — for sundowners. On another excursion, our guide taught us to catch piranhas with little more than a branch, string, and a piece of meat. While our skill level was questionable (it's an art!), we still managed to snag a few, and the chef fried them up for lunch, alongside patarashca, a regional fish specialty served with tomato, garlic, peppers, and cilantro and grilled in banana leaves.
By the end of my stay, I felt at home in the jungle, and relaxed enough to take a dip in the Amazon's mystical black waters.