Wedding Registry Tips That'll Make The Planning Process So Much Easier
@villeroybochusa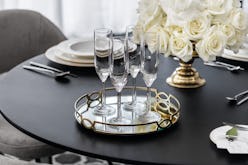 In the grand scheme of wedding planning, tasks like dress shopping, cake tasting, and putting together a registry should be more joyful than stressful. However, the latter of these in particular can be as anxiety inducing as curating a guest list or seating chart — but it shouldn't be. Creating a wishlist of items that will kickstart your life as a married couple should be exciting, bonding you and your partner in the process.
"Take a lot of breaths and do not forget to have fun," advises stylist and lifestyle expert Rachel Zoe. "[The planning process] should not be stressful. It should be fun. Make sure you do what makes you and your [partner] happy and not what [others] want." Having recently celebrated her 25th wedding anniversary with husband Rodger Berman, the stylist and founder of luxury subscription service Curateur has been especially reflective of her own 1998 nuptials, which she "threw together" in the span of about five months.
"It was at the build-up of my career and I was working 24/7," recalls Zoe, explaining that she was "knee-deep" in work with major clients like Britney Spears and the Backstreet Boys at the time. In the midst of a packed work schedule, she wasn't even able to finish her wedding registry, something that she regrets to this day — and actually led her to partner with online wedding platform Joy to help streamline the planning process for couples, making it more pleasant and enjoyable.
"I cannot tell you how many couples fight over registry because [partners will be] like, 'What are you getting this for? What are you going to do with this?'" she explains. "So registries can still be a very draining process."
Well, in the name of keeping the peace with your partner and with yourself, TZR gleaned six crucial wedding registry tips for those starting on their nuptial journey. Ahead, Zoe and other experts give their two cents on what to consider when creating your wishlist.
Don't Rush
Elizabeth Wexler, founder and lead planner at emlan events as well as founder and CEO at wedding registry company spennie, says the best registries are those developed over time. "Over the course of your planning period, if you need things around the house, add it to your registry," she advises. "I remember my coffee machine broke a few months before the wedding, so we added it on. I had guests over and realized I didn't have champagne flutes, so we added those on. Keep a shared note with your partner and then sit down together and add more items."
Tia Mula, wedding vendor and founder of lifestyle blog LIVE&WED, seconds this notion, advising couples to take time together to create a well-rounded wishlist. "Take some time to find items that fit into different price points so there's something on your registry for everyone who wants to give you a gift."
Pick Things You'll Actually Use
One of the biggest mistakes Zoe says she sees couples make is selecting registry items that will not be used in the long run. "They pick things that really have nothing to do with their life," she explains. "People who live a beachy kind of lifestyle will register for fine china and crystal. You're never using that. Unless you're that person that's like, OK, my dream is to have beautiful dinner parties served on china with my formal flatware and my crystal wine glasses. Because there is that person, of course." The stylist suggests picking items that align with your lifestyle and day-to-day routine, that will get good use and not collect dust in a cupboard or on a shelf.
Don't Go Overly Trendy
While maximalism and Y2K everything might be aesthetics du jour at the moment, don't plan your future home life around them. "Another big mistake I see is people getting too trendy with their registries and they end up selecting all these things that are of-the-moment," says Zoe. "And then, in a year, they're like, What on earth was I thinking? This is ugly and this doesn't work in my house. They get a neon blender and then they have it sitting in their white kitchen."
Always err on the side of classic, opting for items in a neutral or softer pattern that you won't mind looking at in 10 years. "I love Kitchen Aid items," says Zoe. "The blenders, coasters, mixers, and things like that because they're really chic. They can sit on your counter, but you can use them every day." The stylist also notes serveware and glasses from brands like Villeroy and Boch that are equal parts beautiful and functional. "I'm very about timelessness when it comes to these things because you really want to live with them for a long time."
Pick Items You Can't Buy Yourself At The Moment
Whether you already cohabitate or not, do a mental scan of your existing or future living space and make note of the things you might need that you haven't gotten around to buying yourself. Those types of items, Zoe explains, should be prioritized in a wedding registry. "I think couples need to think about the things that they are not going to buy for themselves at the moment," she says. "[Ask yourselves] What can we not afford to spend money on for at least the next year or two or whatever? Do we really need a beautiful reading lamp to go in our new living room, but we are over budget and don't want to get it ourselves? Well, maybe three friends can chip in and buy it for us."
Make A B-List
While you want to be sure to have enough on your registry for your guest count and their various budgets, you may want to hold some "nice to have" items on a B-list, says Ellie Durbin, founder of virtual wedding planning site The Aisle Assistant. "This way, guests will see the items you most want first and you can add those B-list items later on and only if needed. The completion discount most stores offer will allow you to purchase them after the wedding at a discount."
Register For Experiences
Caitlin Eastman, CEO and creative director for Eastman Events in Holmdel, NJ says couples shouldn't overlook registering for non-material things. "If couples are more established in a home that they share, then they may prefer to set up a honeymoon fund and designate certain activities they would like people to contribute to so guests feel like they are creating a special experience for them," she says. "This could be a snorkeling trip or a private dinner." The event planner also suggests registering for experiences outside of a honeymoon, like a cooking class or a spa day. "This allows guests to contribute to nurturing your relationship after the wedding festivities have subsided."