The Home-Decor Trend That Can Save You Money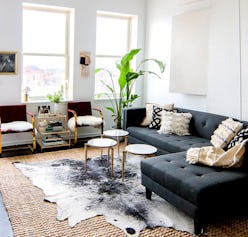 Let's face it: Upgrading a home is expensive, so when a trend comes along that allows us to save a few bucks and give our space a complete makeover, you can bet we're on board. If you haven't already considered layering rugs, prepare yourself for a home-decor epiphany. Investing in large-area rugs is an expensive commitment, and installing new flooring is as much of a headache as it is a money pit (and don't even get us started on renter's rules), which is why this nifty styling trick is right up our alley. Here, 6 guidelines that make covering some ground as easy, stylish and economic as possible—in other words, you can live with champagne taste on a beer budget.
Rule #1: Layer Natural Textures
A jute rug and animal hide are a match made in home-decor heaven, plus you're covering far more floor than your expensive animal hide would alone. Natural wood accents and potted plants only amplify the earthy feel.
Rule #2: Stick To Similar Prints
Go ahead and have some fun with bold colors, but be sure to keep the motifs consistent. Ikat prints and abstract stripes in modern colors look especially polished side by side.
Rule #3: Opt For Similar Undertones
When in doubt, use a larger, neutral-colored rug as the base and layer a smaller rug with similar undertones above it. If the rug boasts a rainbow of colors, decorate the remainder of the room with coordinated flowers and knickknacks.
Rule #4: Give Black And White Color Palettes A Kick
Break up a black and white color scheme with an unexpected pop of bright color layered above. White walls, a solid-colored couch and natural flooring keep the look balanced.
Rule #5: Be Mindful Of Direction
Rugs with directional prints look more interesting when placed horizontally and vertically. Fake a large (and expensive) area rug by layering similar prints in complementing color palettes.
Rule #6: Use Rugs To Distinguish Spaces
Using multiple rugs helps to distinguish the separation between different areas (like a living room and dining room). Strategically overlapping them keeps a seamless flow between rooms, which works especially well in open-concept living spaces.