How To Navigate Merging Home Decor With A (Style-Challenged) Partner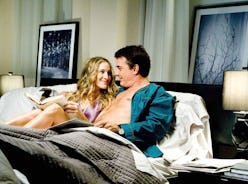 I've lived alone for the last three years and have absolutely loved it. I've cherished every single moment of solitude in my little apartment. That is, until my boyfriend of over a year and I decided it was time to take the plunge and move in together. Here's the thing: I'm obsessed with my apartment and all that it contained. I purchased everything on my own, and I felt each piece represented my taste and therefore served as a mode of comfort for me. I saved a lot of money to attain each item and it took well over a year to make my space feel like home. When friends visited, they would instantly get a sense of who I am and my style, and I never wanted that to change.
Once we decided to make the move (into my abode), my BF and I obviously had to talk about what our home would look like and what we would need for it. His idea, of course, was to buy all-new things that represented both of us, which is a fair request. Was I pumped to replace the pieces I'd spent hard-earned money on and completely adored? No. But I understood that this would now be his home, too, and he deserved to love everything in our place as much as I did. So mature of me, right?
Ch-Ch-Changes!
Once we came to an agreement on what our look and overall aesthetic would be, I felt much less panicked about the whole situation. In reality, my boyfriend's taste isn't too far off from mine (phew). I would describe my style as mid-century modern meets bohemian. I love mixing patterns and textures with beautiful shades of wood and I prefer a cozy, lived-in vibe. As for my guy, he gravitates toward a more modern aesthetic. He's into dark, rich shades, a lot of wood and he typically avoids too much color variation or prints. (My thoughts on the latter: That's too bad, sir! You're getting a hint of both!) So how did we reach a happy medium, you ask?
We came up with a budget and a list of things we absolutely needed: Rugs, bedding, dining chairs, a bar and a bed—aka a lot of stuff. With the help of some serious Instagram interior inspo and online searching (not to mention some heated debates), we found everything we were looking for without breaking the bank. It wasn't easy, but we did it. Hello, compromise!
To be honest, I wasn't very well-versed in online shopping for home items when furnishing previous apartments, but now I can truly say I'm a pro. AllModern is an incredibly affordable site with an emphasis on mid-century modern goods (my dream)! Even with our small budget, we were able to get a new bedroom and dining area that we equally loved.
We also found stunning pieces from Article, which I hadn't heard of until recently. I'm obsessed with velvet and love incorporating rugs into every room since our apartment has hardwood floors, and the site has such a stunning collection of both. Narrowing down our picks was actually the most difficult because the options are that good.
Getting a new bed was a top priority and one of the harder things to search for since my boyfriend always hated my previous one (he's very picky about mattresses and pillows). This didn't thrill me, but I got over it. RIP to my girly pieces of joy! At the end of the day, we both agreed on a classic Casper mattress. It is literally like sleeping on a heavenly cloud.
After a hectic move-in process and a lot of reorganizing, my boyfriend and I made it happen. We donated a lot of our old furniture and managed to make my once ultra-feminine apartment a home that truly represents both of us, not only as a couple, but as individuals. We invested in pieces we'll have for years and I'm so happy with the outcome. The best part? We didn't kill each other! Moving in with a significant other isn't so hard after all.