Fill Your Home With These Fall Flowers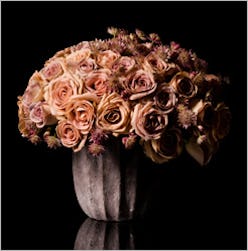 For the second installment in our Style Your Space series—read: Martyn Lawrence Bullard's decorating ideas—we're delighted to showcase a few gorgeous fall floral arrangements courtesy of bloom buff, Eric Buterbaugh! Peruse his brilliant bouquets now to gain inspiration for your own home trimmings, then be sure to follow him on Instagram for a daily floral fix and plenty of laughs.
P.S. Don't forget to show us how you style your space on Instagram and Twitter using #LivingInStyle.
Eric Buterbaugh, Floral Design Extraordinaire
"Fall is an amazing time to put a lot of effort into having flowers in your home space. When the weather is cooler, people tend to nest and stay home more, so making your space happier with flowers is a very good thing. The season is a nice time to go with more muted colors and I like to use more leaves and greenery with the flowers to give that autumnal sort of feeling. In the springtime I really like a lot of glass vases and sometimes mid century colored glass, but in the fall it's nice to use stone and pottery vases, as they seem more cozy."
Orange Soleil Roses
"The perfect festive centerpiece for an autumnal dinner party."
Orange Amaryllis
"Amaryllis is an elegant showstopper for the chic home."
Sweet Peas, Ranunculus, Spray Roses, Greenery/Berries
"This arrangement Is the 'Zac Posen' - luxurious opulence at all times."
Amnesia Roses in a Stone Pot
"Classic beauty in muted tones."
White Amaryllis, Hydrangea, Greenery/Berries
"The purity of white combined with the rusticness of the bark - an irresistible combination for the fall time of year."